Harry Edwards: Let Kaepernick get back to work
Jason Reid, The Undefeated | 8/7/2017, 11:56 a.m.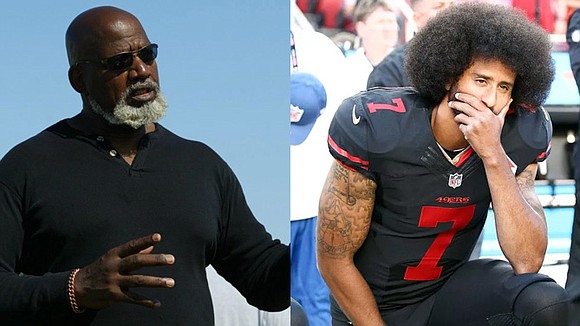 The very notion that there are 32 starting QBs, 32 backup QBs, and as many as 32 backup emergency QBs who are not only better than Kaepernick, but so much better that he is not only undeserving of being on an NFL roster, but is undeserving of an opportunity to compete for such a roster spot … defies demonstrable QB facts, statistics and ratings. And that's both careerwise and from last season.
The suggestions that Kaepernick might be a prohibitive "business risk" – as New York Giants owner John Mara has stated, because of a number of letters, emails, and call-ins warning of some negative fan reaction – and that Kaepernick might be a distractive, disruptive and/or divisive influence in the locker room are belied by indisputable facts: Kaepernick had the highest-selling jersey in the NFL (a measure of public popularity), and he won The Len Eshmont Award, the highest award for "inspiration, character and courage" awarded by the 49ers in voting by his teammates at the end of the 2016-17 regular season.
If Kaepernick is not on a roster at the beginning of the regular season, and most certainly [at some point in] training camp or by the start of the preseason, his effective banishment from the NFL – whether through explicit owner/GM collusion or reactionary NFL consensus – will be a major topic of conversation about the NFL among sports columnists, broadcasters, pundits, pontificators, opinion makers, the public and, especially, in locker rooms around the league. So long as he is not on a roster … a commentary will be amped up every time a QB is injured, or simply has a noteworthy bad game, even in the preseason.
Under the circumstances, the focus increasingly will not be on the games, not on the star athletes, not on the marquee matchups to the degree that it should be. The focus will be on the Kaepernick issue and situation. Already, lists of second- and even third-chance cases from the era/tenure of [commissioner] Roger Goodell are being contrasted and juxtaposed against Kaepernick's "transgression."
Not only would it be a huge mistake, and a public relations, political, and business blunder to allow Kaepernick to be outside of the NFL looking in at the start of the 2017-18 preseason, it would be exceedingly unwise to turn Kaepernick into a martyr when he could in fact be seen as a model. Kaepernick has moved on from protest to progress by way of the funding and development of personal participation in programs. Kaepernick has donated or otherwise spent nearly $2 million of his own money on youth, education and community programs. He has donated 60,000 pounds of vitally needed supplies and medicines to Somalian refugees, helping people suffering in one of the world's greatest humanitarian crises.
He has been unswerving in his commitment to make a difference both within and beyond the football arena, and he has stated outright that he has moved on from protest. So those who wish to emulate his example need no longer focus on sending a protest message. Kaepernick is the very model of focusing on programs as a means to progress. Don't make him a martyr. But more than any of this, as Seattle Seahawks head coach Pete Carroll said, "Colin Kaepernick can not only still play, he is a starter."
I have spent the last half-century organizing, analyzing and deconstructing developments at the interface of sport, politics, race and society. I spent last season actively involved with developments at ground zero of the Colin Kaepernick saga. My essential argument here is that the often and unequivocally correct concern for the integrity of the shield could become a comedic punchline and a glaring contradiction as Kaepernick is split-screened with already publicly acknowledged transgressing personalities, ranging from Joe Mixon, Greg Hardy and Ray McDonald all the way up to Jim Irsay and numerous such cases in between. This is not the conversation that the NFL needs.