Former Grizzlies player Zach Randolph's philanthropy helped but can't heal poverty in Memphis
Wendi C. Thomas, The Undefeated | 8/5/2017, 12:54 p.m.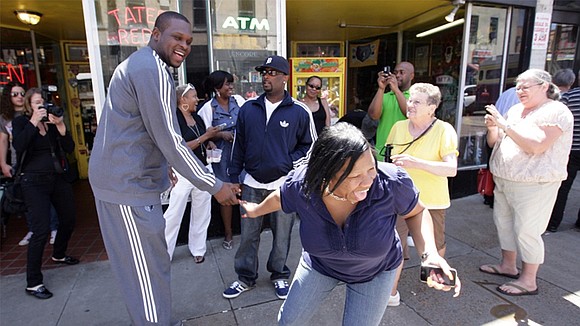 Take the departure of a beloved NBA player-philanthropist. Add in a software glitch that slashed utility bills by a factor of 100. Divide by a rumor spread on social media, then multiply by the city's high poverty rate.
Carry the one and you get a hot (literally) mess that reveals the burden of energy inefficiency on African-Americans and the poor – and how racial disparities in homeownership rates only make it worse. That's exactly what happened last month in Memphis, Tennessee, which has the highest energy burden in the nation.
Here's what created the perfect storm and the unsettling images of black people standing in long lines — images that drew comparisons to post-Hurricane Katrina New Orleans.
Customers can pay their utility bills at dozens of third-party kiosks across the city. But a software glitch shifted the decimal point on customers' bills by two places. Pay just $5 on a $500 bill and you'd get a receipt showing a zero balance.
This is where Memphis Grizzlies forward Zach Randolph comes in. The glitch surfaced just days after the news Randolph was leaving for the Sacramento Kings. During his eight years on the team, he's given tens of thousands of dollars to pay the utility bills of needy Memphians.
And thus, the rumor was born: Randolph had made a $1 million parting gift and all you needed to do was make a payment at a kiosk.
So at kiosks in gas stations and convenience stores across the city, tens of thousands of people waited for hours in lines, hoping that a generous baller had done what public policy has not: Reduce their energy expenses.
On a typical Saturday, about 800 customers pay their bills at these kiosks, utility officials said. On this Saturday, 28,800 payments were made.
"Seeing those people waiting in line, that would be a visual indication of how high these energy burdens are," said Ariel Drehobl, a local policy research analyst for the American Council for an Energy-Efficient Economy.
The council defines energy burden as the percentage of a household's gross income spent on energy bills. Of 48 large cities surveyed, the energy burden is highest in Memphis, according to the council's 2016 report, Lifting the High Energy Burden in America's Largest Cities: How Energy Efficiency Can Improve Low Income and Underserved Communities.
The median household in Memphis spends just over 6 percent of its income on energy expenses. The poorest households in Memphis spend more than 25 percent.
For African-American households, Memphis also topped the list of cities where the energy burden is the highest, followed by Pittsburgh; New Orleans; Kansas City, Kansas; and Birmingham, Alabama.
For renters, Memphis was also No. 1, followed by Birmingham, Alabama; Atlanta; New Orleans; and Providence, Rhode Island. (Cities with low energy burdens: San Francisco; San Jose, California; Seattle; Washington, D.C.; and San Diego.)
The head of Memphis' publicly owned utility doesn't disagree with Drehobl's assessment, although he's quick to point out that the utility rates are lower in Memphis than in most cities.