Ex-East star Timothy Taylor running hard for playing time
Terry Davis, Special to The New Tri-State Defender | 8/4/2017, 11:36 a.m.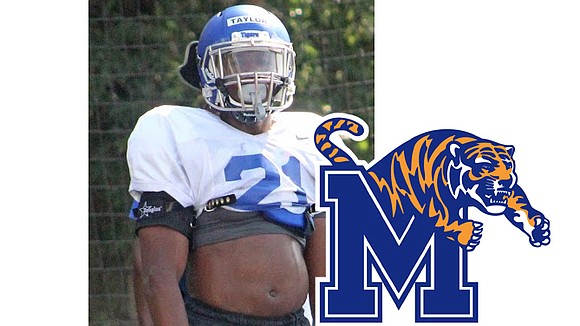 The transition from a high school football star to a division one college program has tripped up many players. Add in the challenge of the high-powered offensive scheme employed by University of Memphis head coach Mike Norvell and the difficulty is magnified.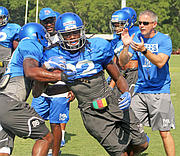 Former East High School star running back Timothy Taylor is going against the odds and turning heads in the early days of fall practice.
The five-foot ten-inch true freshman is attempting to break into the talented backfield of the Tigers. Three running backs – senior Doroland Dorceus (810 yards, 9 touchdowns), sophomore Darrell Henderson (482 yards, 5 touchdowns) and sophomore Patrick Taylor Jr. (546 yards, 2 touchdowns) – return from last year's team.
On many other teams, either one of those returning backs would have rushed for over one thousand yards. Their productivity is even more impressive considering how potent the Tigers' passing attack has become over the last several years.
"He is a bowling bowl back there. He is fun to watch," Norvell said. Everything he does has impressed me – , his running skills, his protection and pass catching ability."
What I look for in a freshmen, Norvell said, "is does he want to. Most don't want to. I have been very, very impressed with him. … He wants to be good, so he spends a lot of time studying."
The is biggest issue with Taylor so far is to be more consistent, Norvell said.
Taylor readily acknowledges the "big difference" playing in high school and on the next level.
"The players are bigger stronger and faster. I want to play my freshman year. I came in with the mentality to play my freshman year. I run hard every play, trying to get on the field," he said.
Taylor has put in extra hours in the classroom and the film room so that the complex Norvell offense will become instinctive to him.
Taylor enters the Tigers' program with impressive accomplishments. He led his team to the 4A title, the first state football championship for East since 1999. He rushed for 119 yards on 21 carries and two touchdowns in the championship game.
Rated by 247Sports.com as the No. 37 all-purpose back nationally, Taylor was a semifinalist for the 2016 Tennessee Titans Mr. Football award for TSSAA Division I Class 4A back.

The Tigers, who began fall practice on July 28, have now moved into practice with pads.
The season begins on August 31 at 8 p.m. with a nationally televised game (CBS Sports Network) at the University of Louisiana at Monroe.