RICKY WILKINS: AN UNCONQUERABLE SOUL
For Wilkins, new life mission emerges amid health challenge.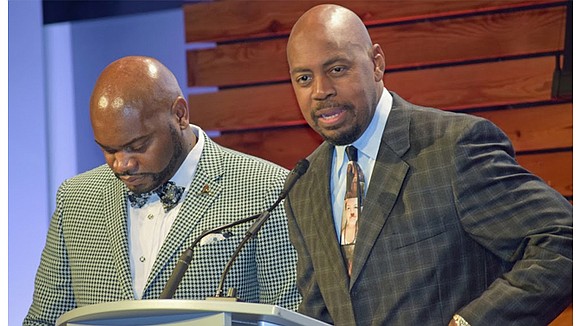 "When I start talking about some things I think need to happen on the political horizon, I'm going to make it very clear to people. I'm not running for office again. You can have that. There are some younger brothers and sisters and other people who have the right consciousness about our community both black and white that will make great candidates. …
"I've got to be in a position to be able to speak the truth to the people and the one thing I learned when I ran for congress, people don't want to hear the truth," he said. "People are afraid of the truth. They'd rather live a lie than confront the consequences of the truth being exposed."
While some people can play that game well, Wilkins said, "I'm not the one. That's why my law license is going to take a back seat. … I just want this community once and for all to get serious about being fair to all of its people. With African Americans being at the top of the list because we have been the ones most maligned, most discriminated against, most oppressed, most depressed, and most compressed in this community and it's time for real change."
Wilkins' resolve is clearly rooted in the many life experiences that have prepared him for the MEMPOWER initiative. His journey from Carver High School in South Memphis to Howard University in Washington D.C. is a prime example.
"I'm going to Howard University. I said to them, 'Listen. If you all will help me get there, I will take it from there.' So four or five of my teachers put together $50 here, $25 dollars there, $100 there. They gave me 500 bucks and put me on a Greyhound bus right there on Union."
He left with a footlocker, a dictionary and the $500, which was the down payment for the first semester's tuition.
"When I left Carver on the 18-hour bus ride, I made a decision that I wasn't gonna be a musician anymore. That when I got to Howard I was gonna focus solely on academics because that's what I was going there for."
He got there earlier than most and "before everybody else started showing up with their kids and their fancy cars and all this kind of stuff." Peeking out of his dorm window into the neighborhood, he heard a band playing. A percussionist, he'd been playing in a band since the sixth grade.
As he told the story, Wilkins grabbed a pair of drumsticks from a nearby table, demonstrating on a small tabletop drum that he "still has skills."
Continuing his story, Wilkins said he tracked the music to its source, meeting Mr. Lee the band director and ultimately showing Lee his skills.
"I have a full band scholarship for you right now, if you want it," he recalled the band director saying.
"I ended up playing for all four years at Howard. I got my band scholarship the first day I'm on Howard's campus. But it only paid for half of the tuition. At Howard you had to have a 3.2 or a 3.5 (gpa); I forget which one it was to be on academic scholarship. And I remained on academic scholarship until I graduated. So between my band scholarship and my academic scholarship, my college was paid for fully.