Black Women's Equal Pay Day highlights gender and racial wage gaps
Courtesy of the Economic Policy Institute | 8/3/2017, 10:30 a.m.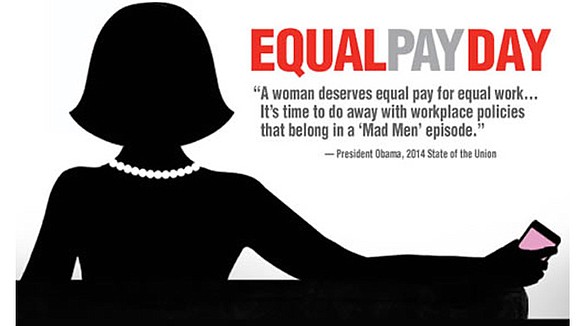 Even when faced with the added demands on their time that come with having a family, in 2015, married black women with children worked over 200 hours more per year than married white or Hispanic women with children, and 339 hours more than black single mothers. Married black working moms also worked 132 hours more per year than childless non-elderly black working women.
The data make it clear that there has been no lack of effort on the part of black women workers.
Myth #2: Black women can educate themselves out of the pay gap.
The truth: Two-thirds of black women in the workforce have some postsecondary education, 29.4 percent have a bachelor's degree or higher. Black women are paid less than white men at every level of education.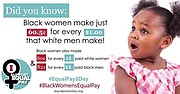 As black women increase their educational attainment, their pay gap with white men continues to grow. The largest gap, of nearly $17 an hour, occurs for workers with more than a college degree. But even black women with an advanced degree earn less, slightly more than $7 an hour less, than white men who only have a bachelor's degree.
This, again, in part likely reflects labor market policies that foster more-equal outcomes for workers in the lower tier of the wage distribution. It also may be affected by certain challenges that disproportionately affect women's ability to secure jobs at the top of the wage distribution, such as earnings penalties for time out of the workforce, excessive work hours, domestic gender roles, and pay and promotion discrimination.
Myth #3: The wage gap is the result of black women choosing careers that pay less.
The truth: In all occupations – both female-dominated and male-dominated – black women earn less than white men.
In various industries and occupations across the labor market, black women earn less than white men. Occupational segregation, which pushes black women into jobs mostly populated by other black women, has had an effect on the racial wage gap in recent years. But the racial wage gap is present in jobs dominated by black women and jobs dominated by white men. While white male physicians and surgeons earn, on average, $18 per hour more than black women doing the same job, the gap for retail salespersons is also shocking, at more than $9 an hour.
As black women continue to be over-represented in low-wage jobs, policies that lift wages at the bottom will have a significant impact on their wages. An increase of the federal minimum wage to $15 by 2024 would affect more than one in four black women workers.
The ongoing gender and racial discrimination faced by black women means that seven months into 2017, black women finally have equal pay with what white men earned last year.
(Valerie Wilson, Janelle Jones, Kayla Blado and Elise Gould crafted this article for the Economic Policy Institute.)