Relentless Spurs bounce determined Grizzlies out of the playoffs
Stretch run by San Antonio was just too much for Memphis to overcome.
Teresa M. Walker, Associated Press | 4/28/2017, 11:54 a.m.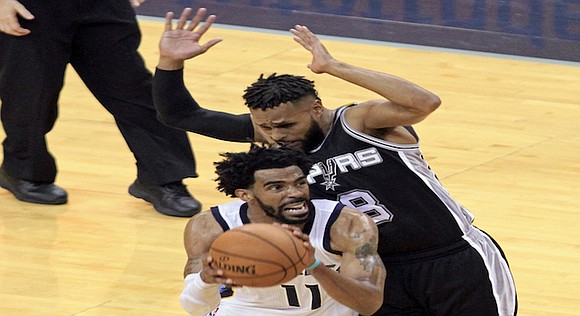 The San Antonio Spurs wanted no part of playing a seventh game against the Grizzlies, not with the Houston Rockets looming in the next round.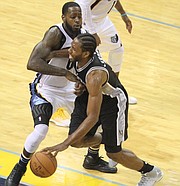 Kawhi Leonard scored 29 points, and the Spurs advanced to the Western Conference semifinals by beating Memphis 103-96 on Thursday night to take the series 4-2.
Spurs coach Gregg Popovich congratulated Memphis on a great year, especially rookie coach David Fizdale.
"I'm seriously thrilled that we were able to get through that first round," Popovich said. "That's the good news. The bad news is that now we have to go play Houston."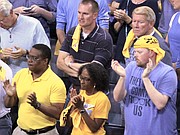 The Spurs now have beaten Memphis four of the five playoff series between these teams, and this was San Antonio's second straight win over the Grizzlies in the first round. But this was the first time all season that the visiting team won.
"It's huge for us," Spurs guard Tony Parker said. "Memphis, you have to give them a lot of credit. They played unbelievable. They're a great team, and they made it hard on us and so we didn't want to come back for Game 7. We treated this game as if it was Game 7. We wanted those days off before playing Houston because it's going to be a fast-paced game against them."
Parker added 27 points on 11-of-14 shooting, while LaMarcus Aldridge had 17 points and 12 rebounds. San Antonio outrebounded Memphis 46-28, with 16 of those offensive boards. That led to 17 second-chance points.
Fizdale said rebounds, points in the paint and who pressured the best impacted each game in the series.
"I kept stressing that to our guys," Fizdale said. "To their credit, (the Spurs) won it more games than we did. But it definitely wasn't from a lack of competition on our part. I can sleep at night knowing my guys battled and competed their tails off."
The Spurs' semifinal with Houston will start Monday night in San Antonio.
Mike Conley scored 26 points, leading the five Memphis starters in double digits. Marc Gasol added 18.
The Grizzlies fell to 3-10 in elimination games, losing six straight.
This was a taut game with 16 ties and nine lead changes, especially with four ties in the fourth quarter.
The Spurs took control after the Grizzlies went up 88-81 on three free throws from Conley with 6:29 left. Then Leonard scored eight straight for San Antonio, starting a 22-8 run to finish the game.
"The guys were amazing in the fourth quarter," Spurs guard Manu Ginobili said. "Huge plays. Great defense too. So, happy to go back home with a win and win the series."
Even with Conley and Gasol a combined 2 of 10 in the first quarter, the Grizzlies trailed only 24-22 after Conley knocked down a 3 at the end of the quarter for his first bucket of the game. Conley hit another 3 for the final shot in the second quarter, putting Memphis up 50-45. The team that led at halftime won each of the first five games.