Grizzlies drop Game 5 in San Antonio, 103-116
Game 6 at FedExForum is "win or go home."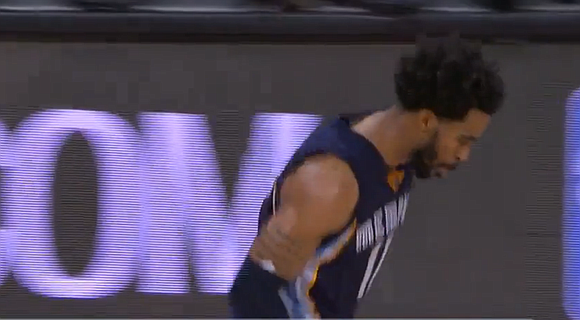 GritGrindGrizz: Three Point Play: MEM 103 SAS 116
We knew going into Game 5 that one of these two teams would be facing elimination in Game 6. Of course, people in Memphis hoped the Grizzlies would be in a position to close out San Antonio on Thursday. But despite another stellar performance from Mike Conley and a good game from the rest of the team, the Spurs were simply better on Tuesday night, winning 116-103.
It is so much fun watching Mike Conley turn into a league-wide star. Conley turned in 26 points, six assists and four steals, and showed off his own handles and ankle-breaking skills in a variety of ways. Just as the Grizz couldn't stop Kawhi Leonard (28 points, six boards), the Spurs had no answer for Conley. He is on his way to supplanting Gasol as the Grizzlies best player, and I don't mind that one bit.
I'm working on a preview of Game 6 for our print edition out tomorrow. However, here's a quick recap of my preview of Game 5, and how the Grizzlies did in comparison:
On a role: As I predicted, several Spurs players had better games in their own gym, none more than backup PG Patty Mills. Mills uncorked 20 points in 22 minutes off of the Spurs bench, including five three pointers, several of which helped seal the game in the fourth quarter. Also, Manu Ginobili finally scored, and did so early with six quick points in the first quarter. In fact, Mills, Ginobili and Pau Gasol combined to score 39 points. By comparison, Grizzlies' reserves Andrew Harrison, Wayne Selden and JaMychal Green combined for 26 points. Troy Daniels was on the floor for 10 minutes and DID NOT. ATTEMPT. A SINGLE. SHOT. Yikes.
No sloppy basketball! After becoming the first team in literally 20 years beat the Spurs despite 23 turnovers in Game 4, Memphis took much better care of the basketball in Game 5, with only nine turnovers. But their defensive focus did not carry over, as they allowed the Spurs to shoot 52.5 percent from the field and a ridiculous 50 percent from the arc. Ordinarily, Memphis scoring 103 points on 51 percent shooting (40.9 from the arc) would be enough to win. But, y'know, defense.
Make threes. Overall, Memphis had a good night from the arc, going 9-22. Both James Ennis III and JaMychal Green found themselves wide open in the corner, and knocked them down. So I was befuddled when the player who would seem a no-brainer for those situations — Troy Daniels — took NO shots. The kid often looks a bit lost on defense, but I can't understand how the team didn't make sure he got the looks that Ennis and Green got. Also, Marc Gasol went only 0-1 from the arc . . . not enough attempts, and certainly not enough makes.
How can Memphis solve these issues by Thursday night? I'll tackle that in our print edition due out tomorrow. In the meantime . . . GRIND ON!
Should be a fun night . . . GRIND ON!!!