THE MOVE: Tri-State Bank of Memphis is taking its headquarters to Whitehaven
Seventy-year-old firm to exit downtown and relocate its main retail branch by May 31.
Karanja A. Ajanaku, kajanaku@tsdmemphis.com | 4/24/2017, 12:51 p.m.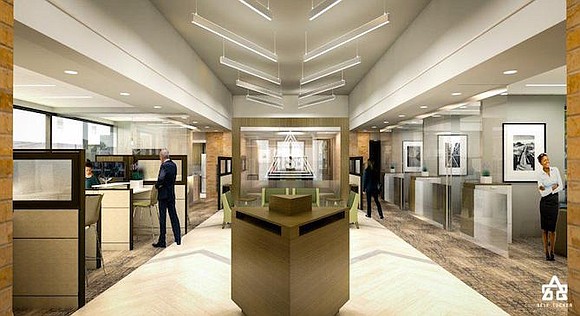 In the banking industry as in the world of medicine, heart transplants require expertise, precision execution and loads of care and concern for the individuals being served.
The word coming out of Tri-State Bank of Memphis is that all of those elements have been firmly embraced as the 70-year-old firm relocates its main retail branch - the heart of its operation - from 180 S. Main St. to its new Retail Banking Corporate Headquarters in Whitehaven.
The move, according to bank officials, will be by May 31 and will settle Tri-State Bank of Memphis headquarters at 4606 Elvis Presley Blvd. And before that - by May 5 - the Executive Operations Department, which now operates from the top floor of the S. Main site, will shift to Suite 600 of the Mid Memphis Towers at 1407 Union Ave.
Transplanting the Retail Banking Corporate Headquarters to "the heart of the Whitehaven community" entails a $1 million complete renovation.
"The move to this area demonstrates our commitment to the Whitehaven community," said CEO Thomas E. Felder. The newly renovated building will provide our customers with every service our bank has to offer by the integration of our Universal Banking platform and state of the art technology services."
Felder projected the total economic impact to be $2 million-plus "as many of our employees will be spending their paychecks at local businesses."
An expansion of Tri-State Bank's ATM network is also part of its strategic plan.
"With additional ATM's and the ability for consumers to do more business online with Tri-State Bank, we expect to see significant growth in the near future," Felder said.
The new headquarters will showcase a fresh design and open-floor plan with dedicated space for clients to receive individual attention. There will be a shift to a new customer-engagement model, with "universal bankers" working as a team to understand individual circumstances and personal goals.
"Our strong team enables us to acquire new customer relationships and participate in the economic growth of the communities we serve," Felder said.
The bank's telephone and fax numbers, email addresses and website access portal will remain the same.