Aaron Hernandez's closeted sexuality may have been a motive in murder case: police sources
Monique Judge, The Root | 4/22/2017, 11:29 a.m.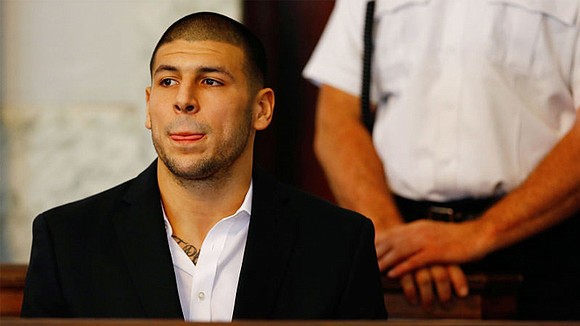 Updated Friday, April 21, 2017, 6:09 p.m. EDT: After a report came out early Friday that Aaron Hernandez had left a suicide note in his cell addressed to a jailhouse lover, speculation as to whether or not Hernandez had a sexual secret began to circulate. Police sources are now confirming that Hernandez's closeted sexuality is being investigated as a possible motive in the murder of his friend Odin Lloyd.
Newsweek reports that an intimate relationship Hernandez had with a male former high school classmate was at the center of the investigation into Lloyd's murder.
Ernest Wallace, who was a co-defendant in the Lloyd murder case, reportedly told detectives that Lloyd had called Hernandez a "schmoocher," which Hernandez and his companions took as a gay slur, and according to Newsweek, Wallace was also recorded during a jailhouse visit telling Hernandez's cousin Tanya Singleton that he would not have helped Hernandez get rid of the murder weapon if he had known that Hernandez was a "limp wrist."
From Newsweek:
Hernandez's alleged longtime male lover, the high school friend, was interviewed extensively by authorities after Lloyd's murder, and was forced to testify in front of a grand jury. Law enforcement officials also say Hernandez moved a large amount of money into three accounts shortly before his arrest for the Lloyd killing: one account was for his fiancée; a second was for his daughter; the third, where the most money was moved, was for that friend.
If Hernandez carried on this thug image in order to hide his sexuality, then this story is even more tragic than initially thought because it means that America, and all the toxic masculinity and male fragility that it perpetuates, is at least partially complicit in these crimes.
We live in a society where men are not allowed to be viewed as less than manly for fear of being ostracized, or, worse yet, are persecuted for who they are and who they love.
If Hernandez was indeed trapped in the closet, the ending of his story is even sadder than we imagined.
Earlier:
The rumor mill surrounding former New England Patriots star Aaron Hernandez's suicide continues to whirl, and the stories are getting wilder and wilder. An unconfirmed report published Friday claims that Hernandez left behind three suicide notes, one of which was addressed to his gay jailhouse lover.
The Daily Mail reports that three notes were found in Hernandez's cell after his suicide earlier this week. One was addressed to his fiancee, Shayanna Jenkins-Hernandez; one was addressed to their 4-year-old daughter, Avielle; and the third was addressed to an unnamed gay jailhouse lover who is reportedly now on an "eyeball to eyeball" suicide watch, according to the report.
The lover is allegedly the last person to speak to Hernandez before he took his own life, according to the Daily Mail.
The notes were reportedly found next to a Bible opened to John 3:16, the same Scripture that Hernandez is said to have had written on his forehead in marker and that reads: "For God so loved the world that he gave his one and only son, that whoever believes in him shall not perish but have eternal life."