Grizz ride Z-bo in takedown of the Spurs
Game 3 goes to Memphis thanks largely to Zach Randolph's stabilizing force.
Karanja A. Ajanaku, kajanaku@tsdmemphis.com | 4/21/2017, 1:26 p.m.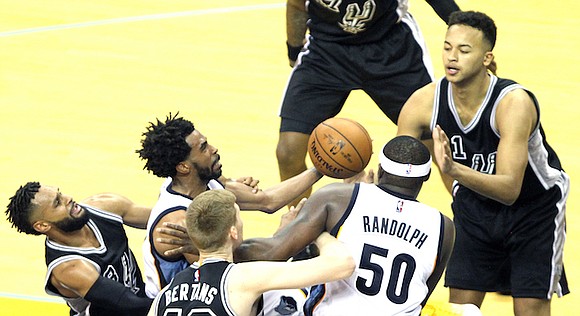 No matter the game, when a player or team goes up against a mountainous and perceptively superior and stronger foe, success often results from a gradual – and largely imperceptible – process.
The key some sports sages say is threefold: stick together through the bad times, develop a game plan to narrow the mountain's broad base and to rely upon a proven camaraderie with a superior man for stability.
Grizzlies vs Spurs, Game 3: Memphis 103, the mountain – also known as the St. Antonio Spurs – 85.
The Grizzlies had lost 9 straight playoff games and 10 straight to the Spurs before Wednesday night's victory at the FedExForum; a win in the opening round of the NBA Western Conference Playoffs.
The stabilizing force for Memphis was Zach Randolph: 21 points, 8 rebounds and a superior presence that was so visibly on display that it lit up the house.
"It was fun to see him (Randolph) succeed doing the things he has done here for so many years," Mike Conley, the Grizzlies starting point and floor general, said.
"It was almost like he was a secret weapon tonight. We finally unleashed him. And man, he really changed the game – hopefully changed the series – and gave us some confidence."
Doing his job coming off the bench for most of the year, it was widely thought that Z-bo would be in the starting line-up for Game 3 after impacting the Grizzlies so positively in the Game-2 loss.
"It felt good out there to start and get a rhythm and get in a rhythm out there faster," Randolph said.
"The guys were looking for me and giving me the ball. It looked good. We've just got to carry on and just put this behind us. We've got Saturday to get ready for."
Grizzlies Head Coach David Fizdale said the Grizzlies' success means so much to Randolph.
"The guys been through so much this year personally and he's made the biggest sacrifices. Whether he's starting for or coming off of the bench, he's just been fantastic and I'm just very happy that I got a chance to coach Zach Randolph."
Spurs Head Coach Gregg Popovich was asked before the game about the Grizzlies possibly altering their starting lineup.
"It doesn't change anything that we might do. We've got to guard whoever is on the court and if he's on the court (Zach Randolph), we've got to try and guard him," Popovich said.
"You can't change your spots at this point in the season. We've got to just be who we are and whoever they start, they start. I don't have any control over that."
Afterwards, he pointed to Memphis' aggressiveness.
"They were very focused and executed well on both ends of the court. They made it really tough on us offensively….They put us in the mud…"
Randolph was the man with men-sized help digging a hole for the Spurs. Conley (24 points, 8 assists), Marc Gasol (21 points, 6 rebounds) got ample support from the likes of James Ennis III (12 points, 2 rebounds) and an engaged bench.