GritGrindGrizz
Lee Eric Smith, lesmith@tsdmemphis.com | 4/20/2017, 12:28 p.m.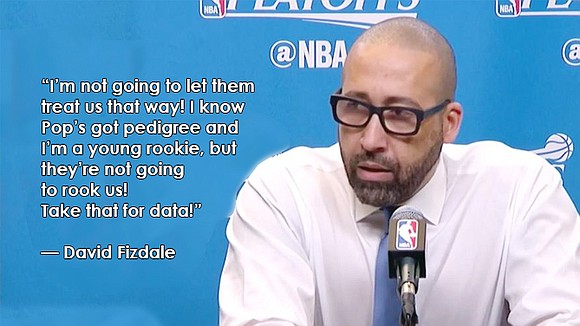 Fine. Anything can happen in the playoffs. But let's be real: Memphis would need to win four out of five games against a Spurs team that's built a 25+point lead TWICE in this series already. Oh yeah, and the Grizz will have to do it without their best defender (Tony Allen) against MVP candidate Leonard — who's already posted back-to-back 30+point games in Allen's abscence.
With a level of luck that church folk typically call "God's favor," I could be writing a preview of a Game 6 by this time next week. But the Grizzlies will have to do their part too.
"Doing their part" means stuff we already know: Make shots. Defend the three-point line. Get at least one Grizzlies role player and/or bench player to score. Try to keep the ball out of Leonard's hands. All easier said than done.
And if somehow the Grizzlies pull that off for 48 minutes, the "God's favor" part means they have to do all that stuff again for at least one more game, to force a Game 6 at FedExForum on April 27.
Absent that, this time next week, I'll be at the the end-of-season media scrum, including interviews with Head Coach David Fizdale and his erstwhile "Core Four" of Mike Conley, Marc Gasol, Allen and Zach Randolph. And seeing as how Allen and Randolph are free agents on a team that desperately NEEDS to get younger and more athletic . . .
Well, insert that New Edition song title here.
Ugh. Don't even like to think about it. Certainly don't want to write about it during The Playoffs, so I'll shelve this post-mortem until the Grizzlies' run has officially ended.
But I don't think it's a stretch to tell you the team will likely look a LOT different next season. Probably won't win as many games. May finally fall out of the playoffs. And some of your favorite players may be in different uniforms.
Time is precious, so savor this team, these players, these memories while you can. It's been one helluva ride.
Grind ON!