A 'Day Without Immigrants' is coming May 1
Montee Lopez, Special to The New Tri-State Defender | 4/20/2017, 11:29 a.m.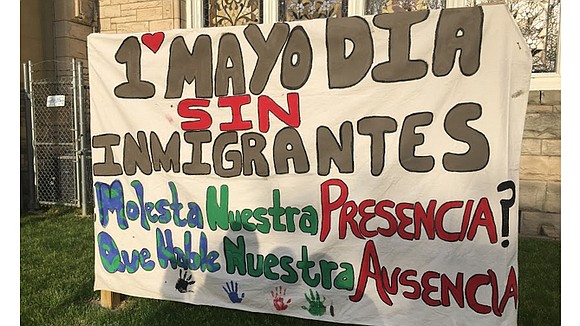 "Molesta Nuestra Presencia? Qué hable nuestra ausencia."
Those words were painted on a sign outside Clayborn Temple in Downtown Memphis. It's Spanish for "Annoyed by our presence? Let our absence speak."
Local immigrants and support groups are getting ready to let their voices be heard through their absence. For a full 24 hours on May 1, participants will join others in myriad parts of the country in a boycott of anything and everything that involves them giving back to the United States.
It's called the "Day Without Immigrants."
The series of protests and marches is designed to get more people paying attention to the message that immigrants in the United States matter and that they have a right to be here.
According to the Migration Policy Institute, the U.S. immigrant population stood at more than 43.3 million in 2015. That's 13.5 percent of the total U.S. population of 321.4 million. Between 2014 and 2015, the foreign-born population increased by 2.1 percent, roughly 899,000 people.
Groups such as Latino Memphis, the Coalition for Concerned Citizens and the Memphis Cultural Coalition are pitching in to amplify the impact of the "Day Without Immigrants."
José Salazar with Cosecha Memphis is one of the main organizers of the local event and during a media conference on Monday evening he said 400 Memphians are on his side.
"It's not against anyone," Salazar said. "It's just to show the importance that immigrants bring to this country."
Hundreds are expected to show up downtown for a May 1 march from Clayborn Temple to the National Civil Rights Museum. The message? Bring an end to the criminalization of people of color, as well as putting an end to raids, deportations and worker exploitation.
The first "Day Without Immigrants" was held in June 2006.The latest was held in February, with organizers reporting that some participants lost their jobs for their show of support.
Salazar associates the current political climate with an uptick in the numbers of people openly voicing their concerns about the presence of immigrants in the U.S.
According to the Washington Post, immigration arrests rose 32.6 percent during the first few weeks of Donald Trump's presidency. U.S. Immigration and Customs Enforcement arrested 21,362 immigrants in the past three months compared to 16,104 this time last year.
"This goes on before Trump," Salazar said. "This has been happening since Obama was in office."
"Deportations never stopped, separation of families kept happening," Salazar said. "With Trump, it's more visual because he comes out and says it publicly. He's bringing out the hate and racism in this country."
Kamilah Rashada is the program manager for the American Muslim Advisory Council, one of the organizations helping with the local protests. She considers it her duty, along with everyone else's, to fight injustice.
"You are responsible," Rashada said. "Each one of us is responsible for the good and the wrong we see in the world. Even if you are not the one being discriminated against, it's your responsibility to stand up for those who are."
Rashada says there will be other activities in Memphis and elsewhere to drum up support for immigrant communities.
"Stand with what is right," Rashada said. "Be on the side of righteousness. The road less traveled has always been a difficult path to follow."