The very real life of Pastor John Gray
Jill Hudson, The Undefeated | 4/19/2017, 10:36 a.m.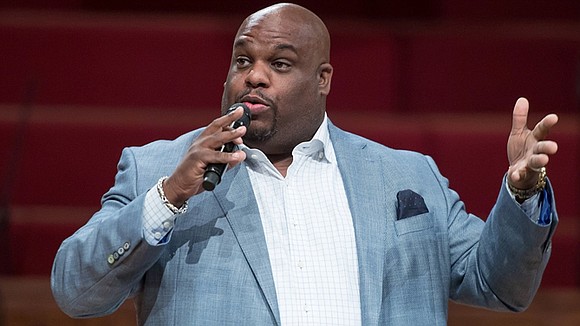 Osteen "didn't give me advice as much as encouragement," Gray noted. "He said, 'John, I'm proud of you. I support and celebrate you.' Pastor Joel knows my heart well enough to know that Aventer and I will honor Lakewood as a local church and won't allow a show [to keep us] from doing what we have to do on a weekly basis.
"You can't let a TV show keep you from connecting with people and preaching and meeting the needs of the flock," said Gray, who hopes to reach viewers as diverse as the congregants who show up in droves "at every Lakewood service. Lakewood is a very nonreligious church — we have every walk of life at each service."
"We didn't sit down and say, 'How can we not scare people with our Jesus?' You'll see a black man trying to be a better husband and father whose lens is faith. That doesn't anesthetize me to pain, issues, trials or failures, but it does give me a perspective to those places."
One point of personal pain involves the Grays' own health issues, which the show tackles head-on in upcoming episodes.
"We both are very open to discussing our health challenges," Aventer Gray said. "And we're making incremental changes with our health, but the cold turkey thing of X-ing out all of our favorite things to eat doesn't work. We'll do good for seven days, and then after that we're back to celebrating something with ice cream and cake and soda and steak.
"My mom will make biscuits and cook bacon every day, but that doesn't work for us anymore," she added. Her challenges with an ongoing thyroid problem are tackled in an upcoming episode.
John Gray's ongoing struggle with diabetes is also discussed, dissected and prayed over, and he admitted that he still hasn't gotten the condition under control, though he isn't too upset by that fact.
"When I feel like I have it under control, I let it go," he said. "I don't take my medicine like I should; I don't eat the things I should or exercise. My father died in a diabetic coma. I know that diabetes is a threshold kind of thing and it can all go downhill at the same time.
"But I see that having diabetes is an invitation to discipline. I can be the miracle by not eating certain things and taking care of myself. It's called growing up. I need another 80 pounds off of me. And when that's off, I'm sure this Type 2 diabetes will go the way of the dodo.
"Nothing was off-limits on the show. We faced it all head-on, and we faced their challenges with love and respect. This is who we are," Gray said. "No matter who you are or how you define yourself, you are loved equally. That's the basis and foundation of who we are as people.
"This is not religious programming — it's hope programming. If you want to hear me preach, come to church. If you want to have a conversation, watch the show."