The very real life of Pastor John Gray
Jill Hudson, The Undefeated | 4/19/2017, 10:36 a.m.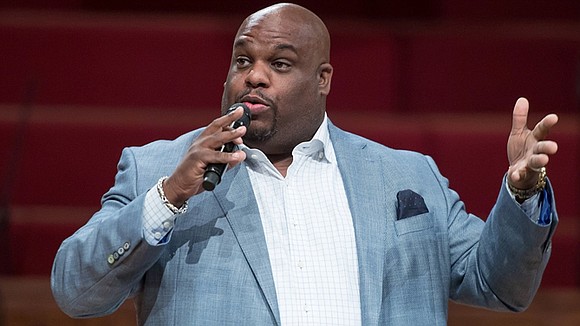 One of the newest members of Oprah's God squad has gotten his own reality show.
The Book of John Gray, a new series starring the aforementioned Gray, who is associate pastor of Joel Osteen's megawatt Lakewood Church in Houston, premiered April 15 on OWN. The show follows the former stand-up comedian as he counsels members of the Lakewood church community as they struggle to overcome life challenges with a combination of prayer, laughter and cool-uncle guidance. Gray's wife, Aventer, is his gracious co-star and foil, and the couple puts their appealing style of "there but for the grace of God …" advice-giving on full display.
The Book of John Gray comes with a fair share of drama, but it's not of the Real Housewives or Love & Hip-Hop variety, said Gray, who began preaching at 21 and toured as a singer with Grammy Award-winning gospel recording artist Kirk Franklin.
Season 1 follows Gray as he guides a number of people, including a woman whose home was destroyed after a flood, a father concerned about his daughter's addiction to alcohol, a couple trying to overcome infidelity on their path to the altar, and a military veteran who is trying to work through the trauma of sexual abuse, which brings up demons from Gray's own painful past.
Rob Cornick, the show's executive producer, is hopeful that the series' 10 p.m. time slot on Saturday nights will find its viewers. "Our lead-in is Iyanla [Iyanla: Fix My Life], which is the network's highest-rated unscripted show," Cornick said. "She's helping people in that show, so hopefully that same audience will really transfer easily to ours and watch. This is really a hybrid of a formatted show and a family doc, so it's very different and uplifting at the same time."
Said Gray: "I hope authentic people who have areas of brokenness in their lives and questions of faith connect with the show. I also hope that people who are regular attendees of church will watch, because it gives an honest portrayal of the humanity of people of faith. It doesn't disrespect or sensationalize faith, and my wife and I aren't trying to proselytize."
Gray said that when people come to the show, they'll see something that's funny, joyous and hopeful. "So, hopefully, people from all backgrounds — faith or no faith — take a look at the show and give us a chance," Gray said. "Skeptics, or people with biases or who aren't interested in church at all — they'll see a show that's relatable to all people."
The Book of Gray already has a likely homegrown audience because of Gray's affiliation with Osteen, the handsome and charismatic media titan who has amassed millions of followers worldwide via best-selling books, arena tours, a SiriusXM Christian radio channel and a hugely popular weekly Lakewood Church telecast.
The OWN series isn't Gray's first foray into nonscripted television. He hosts the daily John Gray World television program on the Hillsong Channel and Trinity Broadcasting Network and has also starred in The Preachers, a talk show on Fox. And, of course, Gray is best known for his affiliation with Lakewood Church, where he preaches on Wednesdays to a 9,000-strong congregation. Gray's book, I Am Number 8: Overlooked and Undervalued, but Not Forgotten by God, will be published by Osteen's publishing house, FaithWords.