Now Hiring: Crosstown Concourse
Concourse employers host job fair on April 29, 10 a.m. - 2 p.m.
TSD Newsroom | 4/19/2017, 12:26 p.m.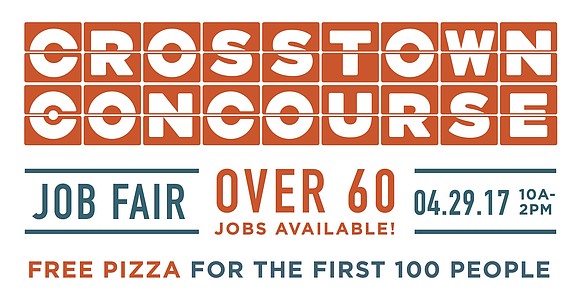 The opening of Crosstown Concourse doesn't just mean new stores and living spaces. It also means new jobs.
On April 29, Crosstown Concourse will host a job fair in the Central Atrium from 10 a.m. – 2 p.m. More than 60 jobs are available with 15 Concourse tenants, including:
• A Step Ahead Foundation
• Area 51 Ice Cream
• Church Health Center
• Crosstown Arts & Theater
• French Truck Coffee
• G4S Secure Solutions
• I Love Juice Bar
• ISS Facility Services
• Mama Gaia Organic Restaurant
• Methodist LeBonheur Healthcare
• nexAir
• So Nuts and Confections
• Tech 901
• The Curb Market
• The Kitchen Next Door
Positions offered at the job fair range from healthcare, arts, operations, retail, and security, with experience requirements ranging from none to extensive. Participating tenants will have a limited number of free bus passes available to help job seekers make it to the fair.
"It is our desire to reach the surrounding neighborhoods and offer as many job opportunities as we can to our neighbors," says Todd Richardson, Crosstown Concourse Co-Leader. "We hope that we will see a great community turnout for our first hiring event inside the walls of Concourse."
Crosstown Concourse is the 1.5 million sq ft former home of the Sears Crosstown distribution center, currently being developed as a mixed-use vertical urban village opening. Building on three of Memphis' strongest community assets— arts, healthcare, and education— Crosstown Concourse will host its Grand Opening on August 19th, 2017.
Pre-registration is strongly recommended. You can register by clicking this link: Crosstown Concourse Job Fair.