Local Democrat calls out Corker on Instagram over Black Lives Matter remark
TSD still awaiting response from Corker's office.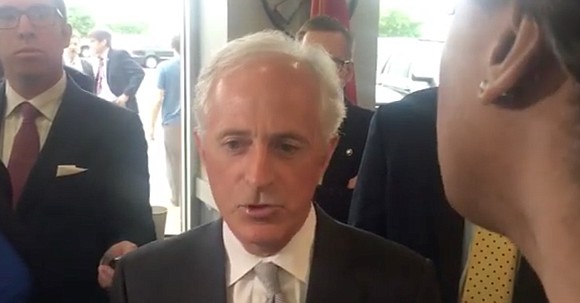 Whatever U.S. Senator Bob Corker said during a Tuesday visit to Memphis, it was enough to get local Democratic leader London Lamar upset — upset enough to find him after the event and question him on a video posted to Instagram.
Corker was in Memphis for appearances at the Arlington Chamber of Commerce and for the Dunavant Public Servant Award Luncheon. The New Tri-State Defender was not on hand for either appearance. But Lamar, President of the Tennessee Young Democrats, was present and posted this on her Instagram feed after the event:
Corker said on the clip that he didn't mention Black Lives matter and goes on to say: "I know you're filming this and it'll be great for social media." But the video stops before Corker completed his reply.
The TSD has reached out to Corker's office for comment, but had not gotten a response as of this posting.