GritGrindGrizz: Playoff Edition
Lee Eric Smith, lesmith@tsdmemphis.com | 4/13/2017, 12:44 p.m.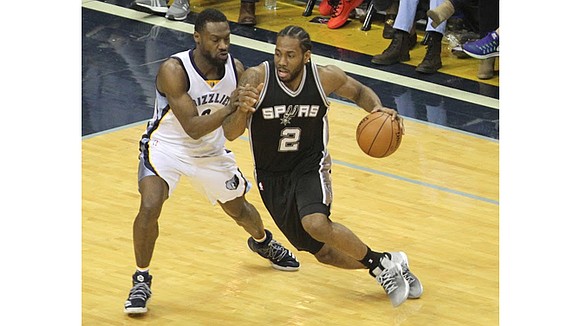 Is this the last playoff run for the Grizzlies "Core Four?"
It's a question that won't really be answered until sometime this summer. But here's what we know: Mike Conley Jr. and Marc Gasol have been signed to long term deals and are in their primes. Both Zach Randolph and Tony Allen are free agents in their mid-30s and are NOT building blocks for the future.
While the team will go as far as Conley and Gasol can take them, the "Grit 'n' Grind" era is defined by the blue-collar, we-don't-bluff personalities of Randolph and Allen. They are a big part of why the city loves the team. They'd both like to retire here. Fans want them to retire here. And yet, the longer they are on the roster, the longer the franchise delays the inevitable rebuild.
Which brings us to the existential question: Do you ride a tried-and-true, playoff battle-tested Core Four until the wheels fall off and you're stuck on the side of the road? Or do you allow Allen and Randolph to go in peace this summer and avoid a breakdown altogether?
And in case you're wondering what kind of playoff preview this is, it's the kind that reminds you to savor this series with San Antonio, this clash of Grit 'n' Grind vs. The Perfect Basketball Machine. Like anything else you love in life, you really don't know when the clock will run out, so cherish the time you have . . .
Now, onto the series. This will be the fifth time that Memphis and San Antonio have met in the Playoffs. Three of those were sweeps —2004 against then-Grizz/current Spur Pau Gasol; the 2013 Western Conference Finals; and last year's injury-ravaged, "who-he-play-for" Grizzlies.
Oh, but that ONE time the Grizzlies didn't get swept! Shane Battier sinks the jumper sealing the franchise's first playoff game victory. A Zach Randolph jumper sealed the series win, that rare occasion when a No. 8 seed upsets a No. 1 seed.
So here we are again, the scrappy underdog from Memphis up against the most consistently successful franchise in the history of sports, this time a No. 7 seed seeking to upset the No. 2 Spurs. What will it take? In honor of the Grizzlies' seventh consecutive playoff berth, here are seven questions to ponder during this first-round matchup, followed by my prediction for the series.
Is it Mike Conley Time?
Conley is the youngest of the Core Four, and up until this season, the most deferential. At best, he was a fourth option, behind Randolph, Gasol and Rudy Gay/O.J. Mayo. With the team's inside-out, ground 'n' pound style of play, Conley's job was generally to set up the offense and play solid defense. Over the last two seasons, he evolved into "Clutch Conley," taking over fourth quarters to help seal wins.
But with David Fizdale's arrival (oh yeah and that NBA-record $153 million contract), Conley has flourished. In addition to his solid defense and game management skills, he's added potent three-point shooting and a willingness to call his own number. Last season, he averaged 15 points and six assists while shooting 42 percent from the arc. This year, he's scoring nearly 21 points a game, to go with six assists and an eye-popping 46 percent from the arc. Oh yeah, and he's healthy for a change.