New Jersey teen has big decision to make after being accepted to all eight Ivy League schools
Ifeoma White-Thorpe thought she'd be headed to Harvard — until seven other letters rolled in.
Maya A. Jones, The Undefeated | 4/7/2017, 12:03 p.m.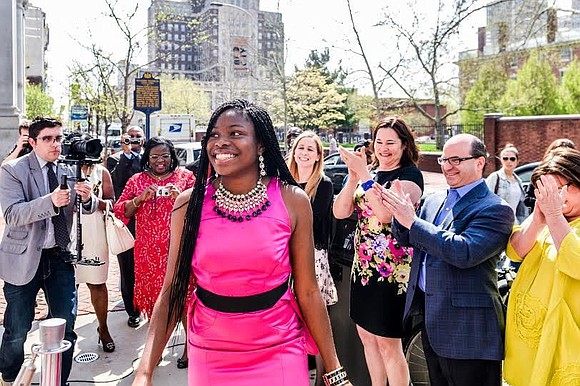 When New Jersey teen Ifeoma White-Thorpe received her acceptance letter to Harvard University, she was elated. Although she had applied to all eight Ivy League institutions, White-Thorpe was grateful to even be considered by one. Her mind was made up, and her heart was set on the university.
"I was shaking," White-Thorpe told New York's ABC 7. "I was like, 'Oh, my gosh, oh, my gosh.' Like, this might be eight out of eight, and I clicked it and it said, 'Congratulations,' and I was like, 'Oh, my goodness.' And then I was like, 'What did I say?' "
Earning golden tickets to Harvard, Yale, Princeton, Dartmouth, Cornell, Penn, Columbia and Brown — and even Stanford — is something that rarely happens, given that most of these universities are known for their low acceptance rates. But White-Thorpe, who takes Advanced Placement classes and is president of the student government association at her high school, believes her writing is what made her stand out. She plans to major in global health and biology in college.
The most daunting task White-Thorpe now has is narrowing down her options and deciding which university she'll choose before her graduation in June.
"At this point, none of the schools I've applied to said they give merit scholarships, so I'm praying that they give me some more financial aid or some money," she said. "Shout-out to all of those schools: Please give me something."
Maya Jones is an associate editor at The Undefeated. She is a native New Orleanian who enjoys long walks down Frenchmen Street and romantic dates to Saints games.