The TSD Interview: REV. DR. WILLIAM BARBER
Barber says moral agenda, persistence can help bring social justice.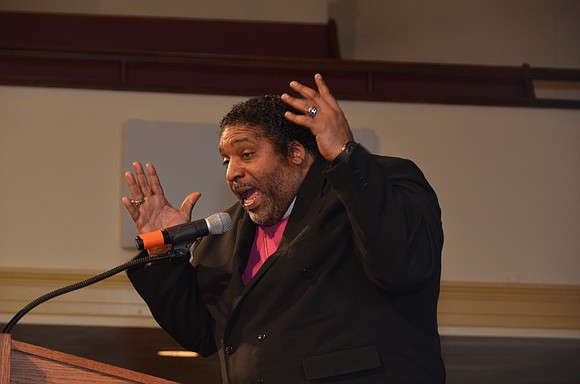 My first encounter with the Rev. Dr. William Barber was via a Youtube link my friend Troy Mathis sent me.
I clicked the link on my phone. I winced when I saw that Dr. Barber's speech was 40 minutes long. Like many of us, the idea of watching any video for 40 minutes on Youtube seemed daunting. But I know Troy; he wouldn't send me this if it wasn't good. I clicked play and for the next 40 minutes I was locked in on a fiery Dr. Barber preaching neither a conservative nor a liberal agenda, but instead calling for a MORAL agenda.
What does that look like? An agenda that actively battles poverty and social injustice, one that calls out so-called "Christians" who will rally against abortion but sit on their hands when it comes to the needs of the poor — especially when "the least of these" were so important to Jesus. He also spoke of building broad, diverse and persistent coalitions across race, class, religious and gender identity boundaries.
Suffice to say I've watched that clip several times since, shared it many times (in fact, I've posted it at the bottom of this interview). And when I learned that Dr. Barber would be in Memphis as part of the National Civil Rights Museum's commemoration of Dr. King's assassination, I scrambled to make sure I got a chance to have a conversation with him.
Along with a handful of other journalists, I got my chance after Dr. Barber had keynoted the Teach-In Breakfast at Mississippi Boulevard Christian Church. I started by asking him about those coalitions.
Lee Eric Smith: How do you get that message to, say, "conservatives" in Appalachia — people who otherwise might never hear that message?
Rev. William Barber: One thing you have to know as a preacher, make sure your choir is with you before you go outside. So, part of the goal today was to recall and remember and revisit in order to re-engage, this idea that the Civil Rights Movement, the movement for justice, the movement against poverty, were always fusion movements.
Often, people leave out those factors. For instance, people tend to limit Dr. King to just being a black leader. Dr. King always was a fusion leader. Even in Montgomery, people forget the many white and Jewish clerics and others that stood with him. Sometimes we look at the Edmund Pettus Bridge and we forget the diversity that walked across that bridge coming here to Memphis. Dr. King had been in Appalachia, he'd been in Memphis, he been with sanitation workers, been in the Delta.
How do we get it to Appalachia? Well, we now have a group called Repairers of the Breach. It's a traveling course in public theology. We teach moral analysis, moral articulation and moral activism. Just a few weeks ago, we had 125 clergy and activists from across the country, people from places like Appalachia and from urban areas, being trained in fusion politics.
We didn't just have services. We had moral revivals. We went to communities that otherwise, maybe, people wouldn't have gone. People came that you might not expect. We found there's a hunger. In a Birmingham moral revival at a Jewish synagogue, we had whites, blacks, Latinos. We had Black Lives Matter, we had Muslims, we had Hindus. We had people who didn't necessarily have a religious faith but believe in a moral universe. We had all those groups coming together and understanding the intersections of poverty and racism and militarism and public education and health care. We can build relationships if we're bold enough and committed enough.