African Americans are working more than ever, but pay hasn't caught up
Low-wage African-American workers have increased annual work hours most since 1979.
Valerie Wilson and Janelle Jones, www.epi.org | 4/6/2017, 10:47 a.m.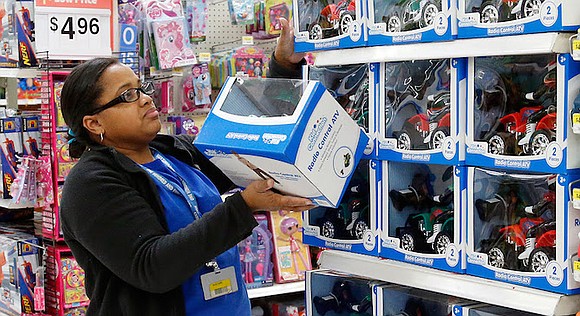 Trends in work hours vary greatly by race, gender, and wage group. Table 2 provides data on annual hours, weeks worked, and weekly hours in 1979 and 2015, further disaggregated by these categories. The data reveal that growth in work hours, for both whites and blacks, was heavily driven by the growth of work hours among women.
Overall annual work hours grew by 22.0 percent among white women and 18.4 percent among black women. However, the growth in annual hours in the bottom fifth and second fifth is larger for black women than for white women. Black women also have higher annual hours than white women all across the wage distribution.
Work hours only grew 4.0 percent among white men and 7.4 percent among black men. Similar to the overall trend, annual work hours grew more among women than among men from 1979 to 2015 because women increased their weeks per year more than their weekly hours in the paid workforce.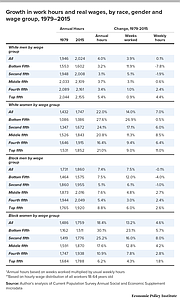 Figure A shows annual hours by race for the business cycle peak years of 1979, 1989, 2000, and 2007, as well as for 1995 (the point during the 1990s business cycle after which wages grew dramatically) and for 2014 and 2015 (the two most recent years of the current recovery for which data are available). It shows that this trend of African American workers increasing work hours more than their white counterparts occurred primarily between 1979 and 2000.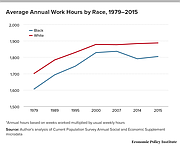 With the exception of a notable decline in work hours among black workers between 2007 and 2014, work hours have changed very little since 2000. However, during this period of time, labor market returns to black workers continued to worsen relative to their white counterparts regardless of age, education, occupation, and other socioeconomic demographics.
The data make it clear that there has been no lack of effort on the part of black workers. Even in the face of persistent racial wage gaps, labor market discrimination, occupational segregation, and other labor market obstacles, black workers continue to increase their annual hours and weeks worked per year.
(This blog post is based on data analysis from the EPI Program on Race, Ethnicity and the Economy's (PREE) an ongoing project on Work Hours, Unemployment and Labor Market Disconnection.)