OPINION: How would MLK respond to Trump's America?
David Love, theGrio | 4/4/2017, 12:29 p.m.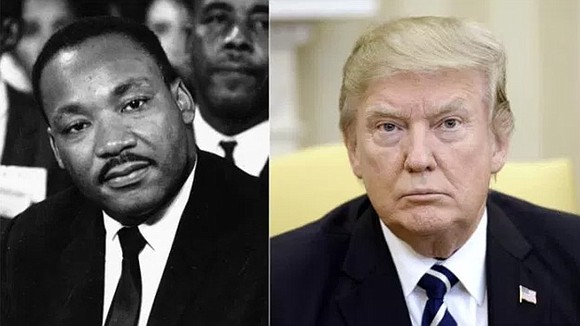 Let us not forget that King also cared about economics. He spoke of the need for America to "undergo a radical revolution of values" and "rapidly begin … the shift from a thing-oriented society to a person-oriented society. When machines and computers, profit motives and property rights, are considered more important than people, the giant triplets of racism, extreme materialism and militarism are incapable of being conquered." When he was gunned down in Memphis, Martin Luther King was fighting for the rights of striking sanitation workers and was organizing the Poor People's Campaign to demand economic justice and human rights to the poor across all racial lines.
What would King make of the Trump cabinet, a mostly white male group, predominantly millionaires and billionaires, with a combined net worth greater than a third of Americans combined, and policies designed to benefit those wealthy cabinet members and their friends? This is the wealthiest cabinet in history, and the worst, King would conclude, with nominees and appointees selected based not for knowledge of their agencies but on their propensity to dismantle them.
Whether the gutting of women's rights, labor rights, environmental protection, civil rights, voting rights, public education, LGBTQ rights or what have you, the government is not only turning its back on its responsibilities; the government is dismantling itself under Trump. And this would concern King, who pushed the federal government to take a more active role in improving lives and upholding justice.
Trump's America would look very familiar to Dr. King, a nation that has failed to live up to the lofty rhetoric found in its Constitution. And African-Americans still have that blank check that came back marked "insufficient funds." Then and now, King would see a country crying out for justice.