Beyond The News: Rev. Jesse Jackson: "Love still works"
A candid conversation about souls over soul food.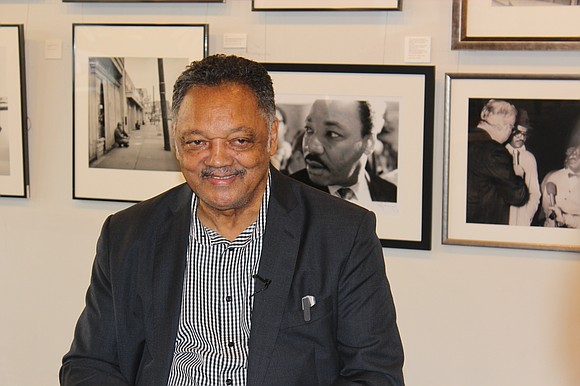 When I learned the Rev. Jesse Jackson would be paying a visit to the Wither Collection Museum & Gallery on Beale Street yesterday, I immediately grabbed my camera and joined TSD publisher Bernal E. Smith II for a quick walk down the street from our offices, also on Beale.
Jackson was in Memphis for commemorations of Dr. Martin Luther King Jr.'s assassination 49 years ago on April 4. On Monday night, he spoke to a large crowd at Mt. Olive CME Church about the Collins Chapel Hospital renovation project and about the importance of healthcare.
But before that, he was at the gallery filled with history-capturing photographer of the late Dr. Ernect C. Withers. I don't know if it was his first visit there, but he was clearly moved as he saw photos of his friend and mentor Dr. King. His eyes watered as he gazed at photos taken in the moments before and after King was gunned down on the balcony of the Lorraine Motel -- a moment he witnessed firsthand.
As Jackson's visit was wrapping up, I wondered if there would be a chance to interview him. Moments later, I learned I'd get a chance to talk to the Civil Rights Movement icon, but the window was tight. It was already mid-afternoon and Jackson still needed to eat, get checked in at the Peabody and relax for a few minutes before getting back to Mt. Olive.
So there I was -- at Kountry Cookin' Soul Food restaurant on Winchester, sitting right across from Jesse Jackson, scooping sweet potatoes and turnip greens onto the reverend's plate. I actually relish moments like that; a lot of people get to take a photo with Jackson (including me; I'm not stupid). But how many people get to say they watched him throw down on a fried pork chop?
I could tell he was tired; during our nine-minute talk, he mentioned that he'd been up and going since 6 a.m. and hadn't gotten much rest. That's long day for a 75-year-old man. He spoke very quietly; at times I could only pray my recorder was hearing more than I could.
When I get a chance to talk to someone like that, I try to come up with questions they hadn't already heard before. There's no telling how many times Jackson has been asked about that fateful day at the Lorraine; about what it was like being around Dr. King. I wasn't particularly interested in covering those questions again.
But as a huge fan of Dr. King's book of sermons "Strength To Love," it occurred to me that one thing both Jackson and King shared was a call to ministry. Of course, Dr. King's strategy of nonviolence was rooted in Jesus' teaching of nonresistence. I wanted to hear from this South Carolina-born preacher from that perspective, about how we can still use spiritual principles to overcome the negativity in our society.
"He was driven by a non negotiable quest for dignity," Jackson told me. "Love lasts; it's enduring. Hate is impractical. There's no future in it. We're fighting for a better America because we love America. We made it. We're going to seek to stop oppression. We don't want to change the color of racism. We want to end racism and xenophobia and gender bias and religious bigotry. We must detoxify the world."
In hindsight, It was perfect that he said this in a near-whisper. In this age of loud anger and noisy fearmongering, a man near Dr. King when he was martyred still speaks of love as the antidote for what ails our society. Sadly, too often, it's not love that makes the headlines. It's not love that goes viral on Twitter. But in the midst of our anger and frustration with what's happening in our world, we must still find it in our hearts to march with love, not anger or fear, Jackson said.
"Love still works. It has to be applied," he continued. "Hatred still does not work. Somebody has to learn to hate someone, enough to destroy them. There's a contradiction when you talk about killing to make life better. But love still works."