GRITGRINDGRIZZ
I have no idea what to expect from these Grizzlies.
Lee Eric Smith, lesmith@tsdmemphis.com | 9/29/2016, 1:24 p.m.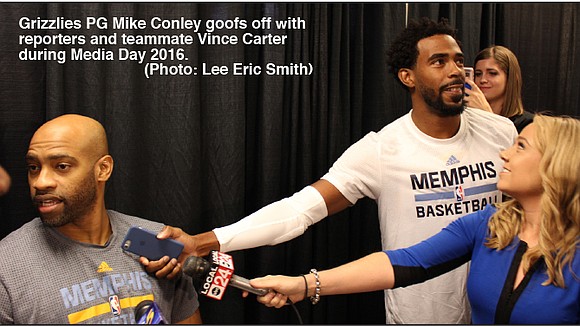 Last year about this time, I wrote extensively about what to expect from your Memphis Grizzlies. In short, I said "more of the same."
I mean, back then it was the same coach (since-departed Dave Joerger) with the same "Core Four" of Mike Conley, Marc Gasol, Zach Randolph and Tony Allen. I predicted that we would see more of Grit 'N' Grind, more of the team trying to keep up with high-scoring teams like The Golden State Warriors. I predicted another mid-season slump followed by another playoff run halted by one of the Western elite – Warriors or San Antonio Spurs.
Some of what actually happened last season was unfortunately predictable – for instance, while season-ending injuries to Conley and Gasol (and for that matter, Mario Chalmers and Jordan Adams) were disappointing, they weren't exactly surprising. Given all they have to do for the team to win, it's easy to understand why their bodies would break down. What nobody could have predicted was the parade of injuries that led to an NBA record 28 players suiting up in Beale Street Blue last season. Scrappy they were, but the team was unceremoniously swept out of the first round by the Spurs.
So what do I expect this season? Well, I don't know what to expect. And that has me excited.
Assuming they are healthy – and we can't assume that -- we know what to expect from the Core Four. It's the new guys who have me curious. Starting with new head coach David Fizdale.
Fizdale represents a shift in direction for the franchise, if not a totally new direction. Whereas former coaches Lionel Hollins and Dave Joerger created and maintained the team identity, it appears Fizdale is here to reimagine it. He talks openly, passionately and repeatedly about building a championship culture – something he has experience with from his days as an assistant with the LeBron James-era Miami Heat.
Like his predecessor, he's looking to accelerate the tempo that his team plays at. Joerger tried that too, and eventually failed, reverting to the inside-out game that relies on Randolph and Gasol. That wasn't all Joerger's fault though — the Grizzlies have rarely had luck in finding a perimeter shooter to help space the floor. When they did, that player (Mike Miller, Wayne Ellington, Jerryd Bayless, Vince Carter) weren't able to duplicate the shooting success they'd had elsewhere. The Grizzlies just straight up didn't shoot many threes, thus no surprise they didn't make many either.
They think they've solved at least part of that problem with the signing of the $94 million man, Chandler Parsons. When healthy, Parsons is a legit bomber from the arc and is expected to spend time as that elusive "stretch four" the team has been hoping for. That "when healthy" part matters though — Parsons is coming off a knee injury and neither he nor the team acted like he'd be ready to go during the preseason. I don't know what to expect from him, but I'm optimistic.