8 ways they'll try to stop you from voting and how to fight back
Even before the Supreme Court struck down specific protections in its 2013 Shelby v. Holder decision, voting rights have been under attack. This election is no different, but you don't have to sit idl
Chante Griffin, The Root | 9/28/2016, 12:13 p.m.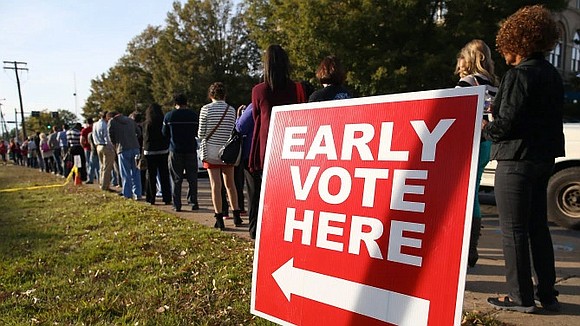 It started in 2000, right after one of the narrowest presidential elections in history, and it surged again, right after President Barack Obama's historic election in 2008: voter suppression. (Humph, wonder why.)
From limited voting access, stringent ID requirements and gerrymandering to criminal disenfranchisement, voter suppression is on the rise. Why? Because one group of people (who shall remain nameless) wants to keep certain types of people (like the ones reading this article) from voting. Here's what they're up to, and here's how to stop them. Hint: It starts with voting, but it doesn't end there.
1.- The Black Eye
Is there a difference between someone giving you a black eye on purpose vs. accidentally? Not much, especially if you're the person with the black eye. Well, Texans of color are icing black eyes, courtesy of a new state photo-ID law, which has a disproportionate effect on black and Latinx voters, according to the Brennan Center for Justice.
A 2014 lawsuit filed by the NAACP and others argued that the law is intentionally discriminatory, a clear violation of the 14th and 15th amendments and the Voting Rights Act of 1965. The U.S. District Court for the Southern District of Texas and the U.S. Court of Appeals for the 5th Circuit have agreed that the law has a discriminatory effect, but they're duking it out over whether it is intentionally discriminatory. The next round of legislative fighting won't take place until after the November 2016 election. Hopefully injustice will get a beatdown.
2.- The Waiting Game
Hate to wait in line? If so, somebody's hoping that you won't. Residents in Maricopa County, Ariz., had to wait in astronomically long lines to vote in the presidential primaries in March. Why? Because the county decided to have just one polling station for every 21,000 eligible voters, compared with the rest of the state, which had an average ratio of 1 to 1,500.
Because of the long wait, some residents had to wait for hours, while others never got to cast their ballots. This change is being contested via the courts, but if there's no change before the November election, just come prepared: Bring your lawn chair, sun visor and episodes of Scandal and How to Get Away With Murder. The former will remind you how important it is to have the right people in power, while the latter will be a nice tutorial on how not to go to prison if you happen to go postal while waiting.
3.- The Ol' Switcheroo
In 2014, San Juan County in Utah decided to close all of its polling stations in exchange for a mail-only voting system. The Navajo Nation is fighting this decision as a violation of a section of the Voting Rights Act.
What is the violation? Well, according to Lawyers' Committee for Civil Rights Under Law, a nonpartisan, nonprofit legal organization, Section 203 of the act stipulates that all voting ballots and instructions be available in English and Navajo. The catch is that Navajo is an unwritten language, so the county's mail-only system automatically violates Section 203. Obviously illegal and obviously intentionally racist? You be the judge.