Charlotte observer says release the Keith Lamont Scott video!
Social media "elbows aside" police version of shooting.
Richard Prince, The Root | 9/23/2016, 11:11 a.m.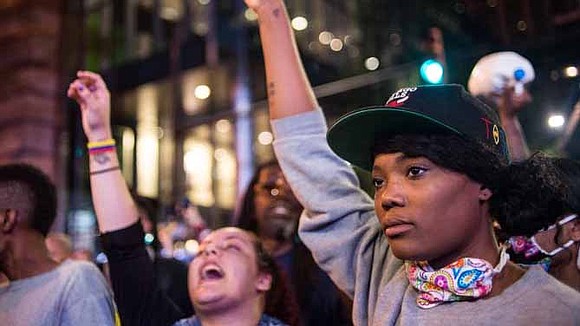 "Did Keith Lamont Scott have a gun in his hand when officers confronted him in a University City apartment complex parking lot Tuesday afternoon?" the Charlotte (N.C.) Observer editorialized Wednesday.
"Or was it a book?
"Police say the former. Relatives and protesters say the latter.
"What we know is that, as Charlotte-Mecklenburg police resist disclosure of the body camera and dashboard camera footage, their narrative of a justified police shooting is getting elbowed aside by the social media livestreams and posts of angry relatives and protesters.
"To bring clarity, police should release the footage now. . . ."
[On Thursday, family members saw the video, but not public did not . "The grieving relatives of a man who was killed by the police here watched videos on Thursday of the fatal shooting, a wrenching experience that they said revealed no hint of aggression in him and left the family members convinced that the videos should be made public," Alan Blinder, Niraj Chokshi and Richard Pérez-Peña reported for the New York Times. "But the city's police chief, who had arranged for the private viewing, held fast to his decision not to release the recordings. . . ."
[On its editorial page Thursday, the Times agreed with the Observer. "The Police Department in Charlotte, N.C., has responded in exactly the wrong way to a police officer's killing on Tuesday of another black man, Keith Scott. It has opted for stonewalling," it wrote.]
The Observer editorial continued, "Protests erupted for a second consecutive night Wednesday, this time with alarming images of unrest in uptown. Protesters' social media posts, viewed by people across Charlotte and around the country Tuesday, intensified the anger undergirding that night's stomach-churning images of violence, looting and arson in the University City area.
"It's the same protest-related violence that marred Ferguson, Baltimore, and other cities. As we all hopefully understand by now, America faces an urgent problem, one that cries out for solutions. . . ."
In news reports, journalists tried to balance competing narratives. A headline over an Observer report by Steve Harrison, referring to Charlotte-Mecklenburg Police, said, "CMPD said Keith Lamont Scott had a gun. Was that reason enough to order him to drop it?"
Harrison noted, "In North Carolina, the open-carry of a handgun is legal. Concealed carry is also legal, so long as you have a permit."
Violence drove the story to the top of the national evening newscasts.
During a second night of protests, "North Carolina's governor declared a state of emergency after a second night of protests over a fatal police shooting descended into chaos," Alex Johnson and Gabe Gutierrez reported Thursday morning for NBC News.
"One person was shot in what police said was protester-on-protester violence, and several people were injured. Police fired tear gas in an attempt to calm the situation. . . ."
Journalists were not spared. Brian Stelter and the CNN Money team reported in their "Reliable Sources" newsletter Wednesday, "CNN correspondent Ed Lavandera was assaulted while reporting live during the violent protests in Charlotte Wednesday night. And his colleague Boris Sanchez choked on what was apparently tear gas. Feeling the stinging effects in his eyes and mouth, Sanchez coughed but continued to report during "Anderson Cooper 360." Lavandera's team brought water to Sanchez's team (producer Kevin Conlon and photojournalist Jerry Simonson). This video of Lavendera being knocked over is getting a lot of attention. He said the perpetrator later came over to apologize and to hug him…