Family: Tulsa shooting victim was turning his life around
Terence Crutcher: 'I'm gonna show you, I'm gonna make you all proud.'
Justin Juozapavicius and Sean Murphy, Associated Press | 9/21/2016, 1:29 p.m.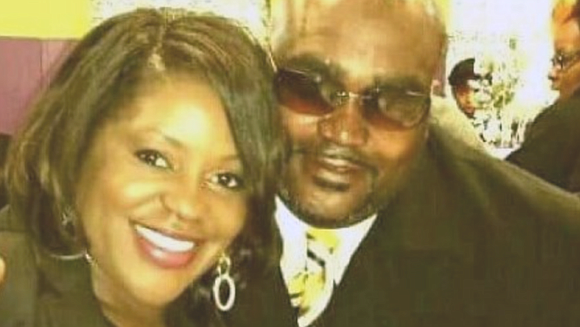 TULSA, Okla. — The unarmed black man shot dead in the middle of a Tulsa street last week by a white police officer had run-ins with the law dating back to his teenage years and had recently served a four-year stint in prison.
But those closest to Terence Crutcher described him as a church-going father who was beginning to turn his life around. After marking his 40th birthday with his twin sister last month, Crutcher sent her a text that read, "I'm gonna show you, I'm gonna make you all proud."
Crutcher was due to start a music appreciation class at a local community college on Friday, the day he was fatally shot by Tulsa police officer Betty Shelby after she responded to a report of a stalled vehicle.
The shooting was captured in graphic detail by a police helicopter and a cruiser dashcam, though it's not clear from that footage what led Shelby to draw her gun or what orders officers gave Crutcher. An attorney representing Crutcher's family says Crutcher committed no crime and gave officers no reason to shoot.
Shelby was put on paid administrative leave while local and federal officials investigate the shooting.
Crutcher's criminal history includes a 1995 arrest in nearby Osage County in which officers reported they saw him fire his weapon out a vehicle window. Records obtained by The Associated Press on Tuesday show that when Crutcher was ordered to exit the vehicle for a pat-down search, he began making a movement to his right ankle before an officer managed to get control of Crutcher. A .25-caliber pistol was found in his right sock, the arresting officer wrote in an affidavit.
Crutcher eventually entered a no-contest plea to charges of carrying a weapon and resisting an officer and received suspended sentences, court records show.
Oklahoma prison officials confirmed Tuesday that Crutcher also served four years in prison from 2007 to 2011 on a Tulsa County drug trafficking conviction.
Crutcher's family could not be reached for comment on his criminal record. But an attorney for his family, Melvin Hall, said those details were not known by police at the scene.
"Nobody claimed that he was a perfect individual. Who is perfect? But that night he was not a criminal," Hall said. "He did not have any warrants. He had not done anything wrong. He had a malfunctioning vehicle, and he should have been treated accordingly."
Saying "we're a family of faith," Tiffany Crutcher told CNN's "New Day" early Wednesday that she hopes something positive can come of her family's loss.
"We're hoping that America will open their eyes, everybody, and see there's an issue, a systemic issue, that needs to be solved. And we're pleading with the leadership of this country, everyone, to just see that and let's put some systems in place to prevent this from happening again," she said.
Terence Crutcher was scheduled to begin the music class at Tulsa Community College on the day he was shot, and TCC President Leigh Goodson said in a statement that Crutcher had talked with staff about his desire to be successful in college.