'A Bridge to Opportunity'
Grizzlies, Civil Rights Museum host social justice conversation; unveil MLK50 Pride uniforms.
Terry Davis, Special to TSDMemphis.com | 9/15/2016, 1:44 p.m.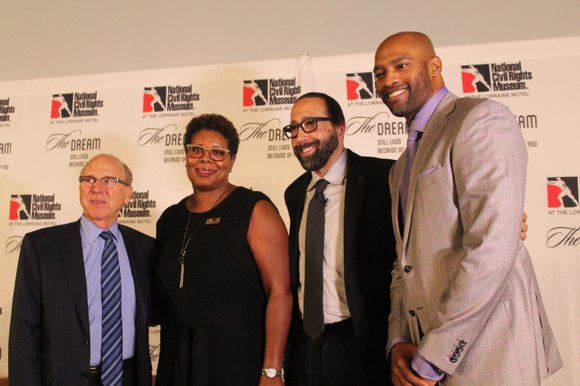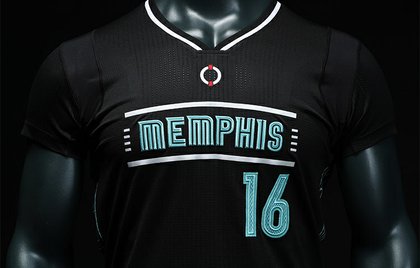 Weeks ago, NFL star Colin Kaepernick started a national conversation about race and social justice when the San Francisco 49ers QB refused to stand for the National Anthem. Since then, other athletes have shown solidarity in similar demonstrations.
Wednesday night, The National Civil Rights Museum and The Memphis Grizzlies started their own conversation right here in the Bluff City — hosting "A Bridge of Opportunity," a panel discussion about social justice and sports.
The team also gave the world a first look at their "MLK50 Pride" alternate uniforms, heavily inspired by the assassination of Rev. Dr. Martin Luther King Jr. nearly 50 years ago.
The panel featured NCRM President Terri Freeman; J. R. "Pitt" Hyde, who led the effort to bring the NBA franchise to Memphis; Grizzlies Head Coach David Fizdale; and Grizzlies forward Vince Carter. Grizz TV announcer Pete Pranica moderated the discussion.
Freeman led the discussion and asked the panel about their mentors and experiences on social justice.

"It was my hopes that a professional sports team would unify Memphis and unite us through different racial lines and divides," said Hyde, a part-owner of the team.
Hyde has a long history of working on social issues. In 1968, while he was running a chain of local groceries stores in Memphis, he met local civil rights legend Maxine Smith. At the time, the local NAACP was protesting in front of several of Hyde's stores.
That meeting launched a lifelong friendship and collaboration on various projects with Smith and her organization. Hyde has been instrumental with the Civil Rights Museum from the beginning twenty five years ago and is a current board member for the organization.
Carter's advice for younger players as they enter the league is to learn their craft and to get to know the city they play in.
"Get to know what makes that city special," Carter said. "A lot of young guys enter the league not knowing who helped paved the way for them to earn the salary that they are earning."
That advice could be applied to the community in general when it comes to history and the love and respect for the community.
"I have an appreciation for wearing this uniform in the city of Memphis, because of the great history and what it is about," Carter said. "This is something I enjoy doing. It is important to get the word out there and to slowly make a difference."
Fizdale grew up in South Central Los Angeles. He was there in 1992, when four police officers were acquitted after being filmed beating Rodney King. That verdict sparked days of rioting
"While there, I saw a lot of violence, black on black crime, police brutality and a lot of economic despair," Fizdale said. "As I went through that, I tried to absorb as much as possible and tried to be in tune with everything that was going on around me. I am not the type of person that is going to protest violently. That is not how I was raised. But right then, I knew I had to get involved."