Grizzlies, Civil Rights Museum to livestream conversation on social justice, sports at 6 p.m.
Also will unveil commemorative MLK jerseys.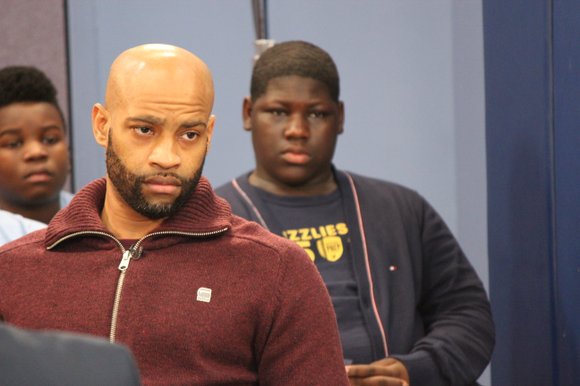 With the momentum growing behind NFL QB Colin Kaepernick's protests during the National Anthem, more and more athletes are showing solidarity. Indeed the demonstrations have sparked conversations about race and social justice, and now Memphis' own pro sports franchise is taking the initiative.
From Grizzlies.com:
The Memphis Grizzlies and the National Civil Rights Museum will host a conversation on the intersection of social justice and sports tomorrow, Sept. 14 at the museum featuring Grizzlies Head Coach David Fizdale, Grizzlies guard/forward Vince Carter, National Civil Rights Museum President Terri Lee Freeman and Museum Board Member & Grizzlies Partner J.R. 'Pitt' Hyde. This event is closed to the public, but media is invited to attend.
During the event, the Grizzlies will also unveil their 2016-17 MLK50 pride uniform, set to debut on the hardwood at the Martin Luther King Jr. Celebration game on January 15 vs. Chicago. The MLK50 uniform will tip-off the National Civil Rights Museum's upcoming recognition of the 50th Anniversary of Dr. Martin Luther King Jr.'s assassination and will be worn at various games during Black History Month to bring greater awareness to the National Civil Rights Museum at Memphis' Lorraine Motel, and to drive a deeper understanding of the history behind the movement for social justice that defined Dr. Martin Luther King Jr. in life and in death.
The panel discussion and jersey unveiling will begin at 6 p.m. and will be live-streamed at Grizzlies.com and hosted by Grizzlies Play-By-Play Announcer Pete Pranica.
The museum will remember the 50th anniversary of MLK Jr's assassination with a yearlong commemoration from April 4, 2017 to April 4, 2018. With the theme "MLK50 – Where Do We Go From Here," the museum will partner with organizations and civil rights leaders around the country for national observance. MLK50 will include signature events and activities in tribute to Dr. King's legacy, especially emphasizing his focus during his final years – poverty, better jobs with higher wages, decent housing, quality education and nonviolence – as a method of achieving positive social change today.
I've always admired the way this franchise steps into these conversations. And having heard Vince and Coach Fizdale speak with candor about these things, I'm looking forward to hearing what they have to say. That said, I also wish there were a few more "common" folk and women on this panel -- maybe a Tami Sawyer or other #blacklivesmatter member.
And I can't wait to see the new uniforms — for multiple reasons, I hope they are black and gold — mostly because black and gold are an awesome color combination that I'm surprised that more teams in the league don't use.