TSU digs out of early hole for fifth straight Southern Heritage Classic win
JSU starts fast but falters in the second half.
Terry Davis, Special to The New Tri-State Defender | 9/12/2016, 2:05 p.m.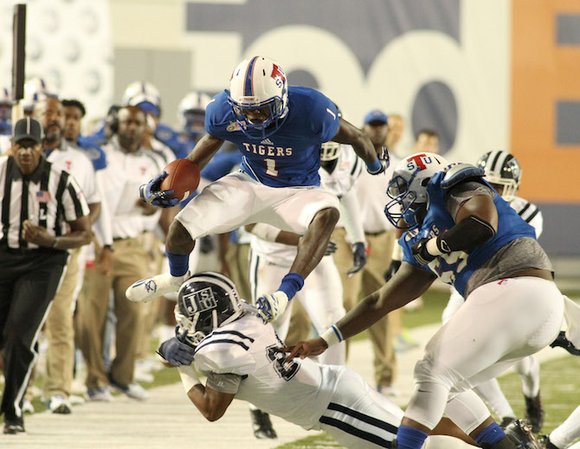 After four straight victories over Jackson State University in the Southern Heritage Classic, this year's young Tennessee State University team had to contend with the weight of expectancy on the part of its fan base.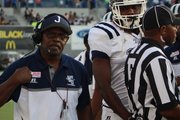 Meanwhile, JSU fans came in with a fervent hope that their 2016 Tigers could turn the tide under first-year head coach Tony Hughes. And early on, there was ample ground for those hopes to take root.
With 46,263 in attendance at Liberty Bowl Memorial Stadium, TSU withstood rival JSU's promising start and mounted a comeback for a 40-26 and its fifth straight Southern Heritage Classic (SHC) victory.
For the Tigers of TSU, the path to that victory featured the leadership of their quarterback, quarterback, O'Shay Ackerman-Carter, who passed for 227 yards and two touchdowns without throwing an interception. He also rushed for one TD.
"He is a warrior," said TSU head coach Rob Reed. "He made some critical checks at the line of scrimmage. His receivers made plays for him."
Jackson State's fast start began with a blocked punt by Kwame Bowens that Josh Miller returned for a 40-yard touchdown. With a 7-0 lead in the bag, JSU pinned TSU on the three-yard line on the ensuing kickoff. The defense stood strong, forcing a three-and-out punt and setting the JSU offense with a short field.
The JSU drive began on the TSU 38-yard line. Two plays later, quarterback LaMontiez Ivy hit Dan Williams on 30-yard touchdown, bumping the lead to 13-0. Tennessee State got a momentum boost with a block of the extra-point attempt.
Keeping its composure, TSU bounced back. Erick Evans ran a TD in from the five-yard line. The extra point made it 13-7. Ackerman-Carter followed that up with a 13-yard pass to freshman receiver Steven Newbold. The extra point went awry and as the first quarter ended the score was knotted at 13.
TSU's subpar special-teams play surfaced again when JSU's Justin Jemison blocked Austin Rowley's punt attempt. Ben Thomas recovered the miscue in the end zone for a touchdown, putting JSU back in the lead 20-13.
Perturbed but not rattled, Tennessee State answered the Jackson State score with a two-yard run by Evans. JSU's Shawn Bishop blocked the point-after attempt, keeping Jackson State on top 20-19. And with a field goal tacked on, JSU took a 23-19 lead into the half-time break.
The Tennessee State team that came out of the locker room was not one that JSU could handle. "I told my defense they needed to just hold JSU and if we scored again, we would win the game," said Reed.
Jackson State's offense went cold, managing only a field goal the rest of the way.
Tennessee State was just getting warmed up. Ackerman-Carter hit former Whitehaven High School standout Patrick Smith for a three-yard touchdown. After Ezra Robinson intercepted an Ivy pass and returned it for a 25-yard touchdown, Ackerman-Carter ran for a touchdown.
Reflecting on his team's early mistakes, Reed said some of his players may have been overly excited playing before one of largest crowds either team will see this season.
Coach Hughes of JSU said the coaching staff's plan was to shorten the game by going deep into the play clock to keep TSU's offense off the field. Although effective in the short run, the plan wasn't sustainable because JSU's offense couldn't get into the enough zone enough and had to settle for field goals.
Jackson State only had 60 net rushing yards. Jackson's State Ivy passed for 167 yards, with 19 completions on 40 attempts and one critical interception. Williams had 78 yards on 8 receptions, including JSU's early touchdown. Newbold hauled in 96 yards on 4 receptions, with one touchdown.
"We became more one dimensional than we wanted to be," said Hughes. "We had no turnovers in the first half, and only had one is the second. That turnover could have possibly cost us the game."
Tennessee State will look to extend its 2-0 record next week when the Tigers travel to Daytona, Fla., to play Bethune-Cookman College.
Jackson State (0-2) will look for its first win as the Tigers open their home season against Grambling State.