Trezevant coach wants defending-champion Bears to get hungrier
Bears looks to defend state championship.
Terry Davis, Special to The New Tri-State Defender | 9/9/2016, 1:07 p.m.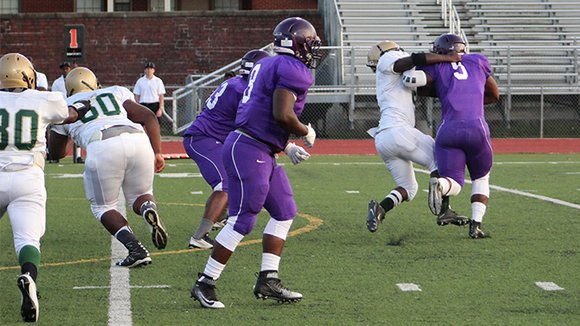 The road to back-to-back state championships will not be easy for the Trezevant Bears.
Head coach Tili White said his players have gotten overconfident and are just going through the motions – even new players in their first year on the varsity team. He said his team isn't hungry yet.
"We are no where near where we are supposed to be," White said. "Our guys have got full and don't want to eat. The 17-year-old kids are acting like 15-year-old kids."
White may not feel his team is up to par yet, but the competition in Memphis is not buying it.

The Bears are off to solid start with a 2-1 record. Trezevant is undefeated in Memphis, with wins over KIPP (36-6) and MLK Prepatory (54-0). The team's only loss was a 27-26 nailbiter to Southaven.

Trezevant's next two games are on the road. This Friday (Sept. 9) the Bears travel to Nashville to play Ensworth High School. One week later, they play Desoto Central High School.
The Bears will not play again in Memphis until September 29, when they play Memphis Academy for Health and Sciences.
The Bears are led by
Clemson committee Cordarrian Richardson and Tijuan Mason, who has said he will play for Purdue, lead Trezevant, which has several other prospects looking to sign scholarship in February.
Richardson is a six-foot, 200-pound running back that some see as a potential candidate for Mr. Football in Tennessee. He is a hard runner with power.
Mason, the six-feet-four wide receiver and defensive end, is looked to as a leader on offense and defense.
Whether star or role players, White said, "We need to focus on the small things. All the small things are what make a big difference in high school football."
The season is still young and as long as the Bears have Richardson in the backfield they likely will be in every game. Still, White says the team is making too many mistakes and points to that as contributing to the loss at Southaven.
This past weekend, White took several players to the Tennessee State University game in Nashville to get a feel for next-level football as the Tigers played Arkansas Pine Bluff in the John Merritt Classic. He wants as many of his players as possible to earn college scholarships and laments that he didn't have a budget to take the entire team.