TENNESSEE STATE 2016 SEASON OUTLOOK
TSU looking to bounce back.
Terry Davis, Special to The New Tri-State Defender | 9/9/2016, 1:23 p.m.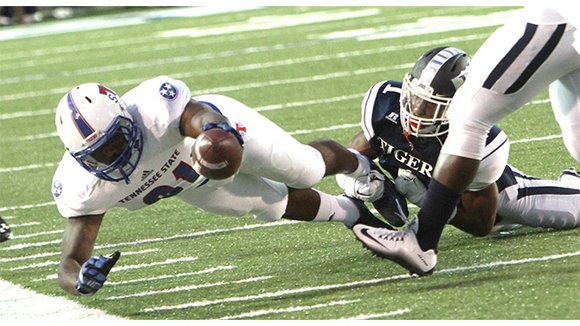 The Tennessee State Tigers "Big Blue" faithful love their team win or lose. Many make the trek from Memphis to Nashville to attend many games and not just homecoming. This season the faithful fans should see the TSU Tigers return to their winning ways after falling to a 4-6 record last season.
But despite the disappointing season record, TSU looks to continue their domination over Jackson State in this year's Southern Heritage Classic in Memphis on Saturday. TSU has won 11 of the last 13 games between the two schools, including the last four matchups.

TSU is led by Head Coach Rod Reed, now in his sixth season. In that time, Reed has gone 37-33, but the whole team would like to return the upper tier of the Ohio Valley Conference. Just three seasons ago, TSU wrapped up the 2013 season with a 10-4 — enough to qualify for the Football Subdivision Championship playoffs. In fact, TSU scored their first playoff win in 27 years with a victory over Butler in Indianapolis. The win was the first in 27 years for the Tigers.
Patrick Smith, the team's leading receiver, returns for his junior season. Last season, Smith had 996 receiving yards, 10 touchdowns with his longest reception covering 84 yards. Sophomore quarterback O'Shay Ackerman-Carter will be looked upon to lead the offense. Ackerman-Carter started seven games last season for the Tigers and passed for 1,279 yards and 11 touchdowns.

Last season, TSU was beset by injuries forcing Reed to play his younger players. Although the team is still a young, they now have more experience. Tigers will rely on their offensive line to create a running game. While the Tigers lost their last year's leading rusher Telvin Hooks, junior Erick Evans returns and will have to carry a heavier load.
The offensive line will be led by Jessamen Dunker. Dunker played in all 10 games in 2015 and 35 in during his career, starting 33. The Boynton Beach, Fla. native was selected to the Ohio Valley Conference Preseason All-Conference team and has been listed on multiple preseason All-American teams in 2016.
Reed said his Tigers usually get off to a good start but last season, key injuries derailed their early season momentum. This year, Reed and his squad will need to build on the early successes and control the tempo of the game by controlling the line of scrimmage. If they can do that and stay healthy, this could be a magical season for the TSU Tigers.