GRITGRINDGRIZZ
Season Preview: These are not your same old Grizzlies.
Lee Eric Smith, lesmith@tsdmemphis.com | 10/27/2016, 1:38 p.m.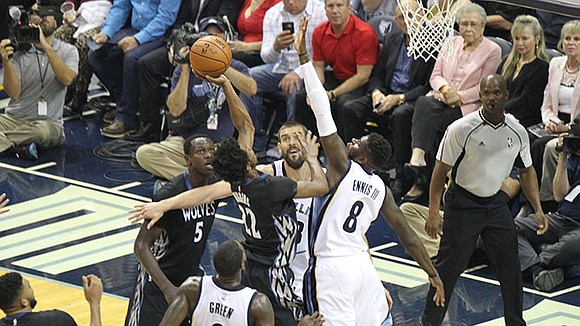 Well, here we are, opening week of NBA Basketball in the Bluff City. Last night, the Memphis Grizzlies posted a XX-XX victory/loss over the Minnesota Timberwolves, more about the game right here.
Win or lose, it's only one game. And if we've learned anything about these David Fizdale-coached Grizzlies during the preseason, it's that we know next to nothing at all. Fans have legit reason to believe this is a 50+win playoff team, maybe even a top four seed. Skeptics have legit reason to believe that injuries and age will push the Grizz into a sub-.500 playoff outsider.
Ultimately, we won't know which is which until sometime in March. As of now though, the Grizzlies are 1-0, and if you can't engage in unbridled optimism at the beginning of the season, what's the point? So here are my wacky predictions for the Grizzlies this season:
David Fizdale will win Coach of the Year. Okay, so fine, I like the guy. Anybody who talks to David Fizdale for at least 38 seconds will like the guy. But that's not why I'm picking him for Coach of the Year. First and foremost, I think the Grizzlies will win a lot of games. This will come as a surprise to many league watchers, especially since the key personnel is the virtually the same, and because his predecessors have failed at getting the Grizzlies to play faster and be respectable from the three-point line.
But judging from how rapidly and convincingly he's gotten his key players to buy into a new style of play, he'll get votes for how his team is "exceeding expectations" — even though he and his roster would scoff at the expectations being so low.
Mike Conley will be an All-Star. He won't be a starter. He won't be selected as a reserve (at first). But he'll make the All-Star team.
Here's how: Probably the biggest beneficiary from Fizdale's offense is Conley. With Zach Randolph coming off the bench, and even Marc Gasol spending time out of the paint, it spreads the floor in a way Conley's never seen. With his tools — his savvy, craftiness, herky-jerky moves and that sweet hesitation fake, we're about to see a side of Mike Conley we've only seen flashes of so far: Go-to scorer.
For most, if not all of his career, Conley has been (at best) the third option on offense. No longer. With an open court, more time off the ball and permission to play loose and free, I expect Conley to finally break through to true NBA stardom – 20 points, nine assists and 45 percent from the arc.
Which won't be enough for fans or coaches to put him ahead of Steph Curry, Klay Thompson, James Harden, Russell Westbrook or Chris Paul. No, once again, it's going to come down to Conley, Portland's Damian Lillard and some other X-Factor player. And while I'm not wishing for anyone to get hurt, my hunch is that an injury to one of the above players will create a spot for Conley on the All-Star team — and we can finally kill that "best player not to be an All-Star" noise.