Closing Arguments
Set to step down in December, outgoing EEOC General Counsel, David Lopez talks with The New Tri-State Defender about workplace discrimination
Montee Lopez, Special to The New Tri-State Defender | 10/21/2016, 12:46 p.m.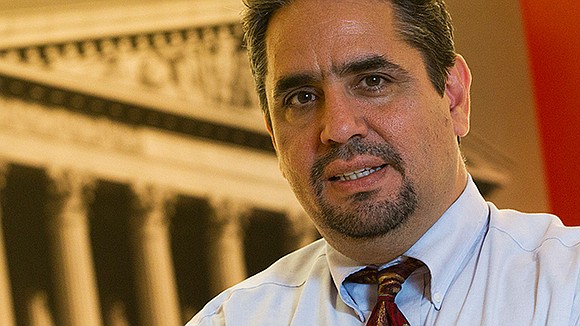 "A lot of times, workers here feel discriminated against," said David Lopez, making the case for the value of the Equal Opportunity Employment Commission (EEOC).
Lopez is experienced pitching the EEOC's worth. He's the federal agency's general counsel. Last week, he was in town conferring with the Memphis district office when The New Tri-State Defender interviewed him at the Peabody Hotel.
The EEOC looks at Title VII's ban on discriminatory practices in the work place of any kind and its authority supersedes local and state laws. The Memphis District covers Tennessee, Arkansas and 17 counties in Northern Mississippi.
If you have concerns about possible discrimination while on the job, this is the place to go. Lopez says the Memphis office wins most of the cases it takes to court.
"These wins are significant because these cases are presented to a jury of your peers – people of all backgrounds." Lopez said. "This means people know an injustice has occurred."
The range of cases that the EEOC handles includes sketchy hiring processes and aggressive sexual harassment.
"Jobs can't refuse to hire you because of race, nation origin, sex, etc," Lopez said.
Most hiring discrimination goes undetected, said Lopez, noting a case where a Muslim woman was denied employment at Abercrombie & Fitch because she requested to wear her hijab if hired. She later learned why she did not get the job from a friend who had pressed the firm's management for its reasoning.
"There are some hiring practices that have been created to systematically exclude either African Americans, Latino and women."
Lopez said it's often hard to determine which cases have a discriminatory or legit basis. Prepping can take years.
Faye Williams, regional attorney for the EEOC, gave an example. She referenced a case that closed last December involving Select Staffing, a temp agency that employs thousands of people in the Mid-South.
"We've noticed temporary staffing agencies often have preferences for Hispanics and sometimes they (the temporary workers) don't have the best backgrounds," Williams said, adding that the EEOC determined there had been discrimination in the Select Staffing case.
The Memphis Office has been working on making clear guidelines on what can and can't be used during a background check. This past legislative session, lawmakers passed "Ban the Box" legislation, which restricted potential employers from asking about criminal backgrounds when considering employment for a period of time.
Lopez said stereotypes were also in play, explaining that some believe Hispanics would work for little to nothing, with no complaints.
Employers are also supposed to provide reasonable accommodation for those with disabilities. Lopez and Williams detailed a case where a woman was fired from Dollar General for stealing orange juice that was worth $1.69 and may have saved her life.
"The woman was hypoglycemic, and she asked if she could have juice at her station. Her request was denied," Williams said.
Sensing a hypoglycemic episode coming upon her, the woman drank the juice before paying for it, which was grounds for termination. Williams said a policy was in place for reasonable accommodation, but no one knew about it, including immediate store management. The case was taken to court and settled for $270,000-plus, with back pay.
The Memphis EEOC office also handled a large sexual harassment lawsuit at the Cheddar's Restaurant that was located off Winchester and now is closed. An EEOC inquiry revealed that a manager had sexually harassed a female employee on multiple occasions.
"After she filed, we discovered more and more cases," Williams said. "This man was also harassing teenage girls, women who were applying for jobs there."
The subject of employer backlash came up during the discussion with Williams and Lopez. For the record, it's illegal for an employer to retaliate against those who file formal complaints about sexual harassment, discrimination and unreasonable work conditions. This includes unfairly increased workloads, demotion and termination.
Lopez said most workers who take cases to court do it based on principle and often aren't in it for the money.
"Many of them say they don't want to see anyone else go through what they went through," said Lopez, who encouraged more reporting of violations.