GRITGRINDGRIZZ
Fizdale: 'It's bigger than coaching'Fizdale: 'It's bigger than coaching'
Lee Eric Smith, lesmith@tsdmemphis.com | 10/6/2016, 1:44 p.m.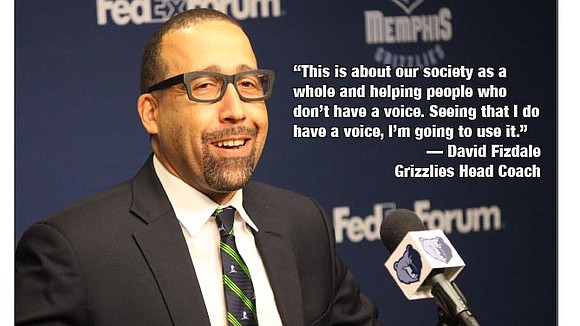 A few weeks ago in one of his first off-the-court appearances, Memphis Grizzlies Head Coach David Fizdale participated "Social Justice and Sports," a forum co-sponsored by the team and hosted by the National Civil Rights Museum.
It was Fizdale's first visit to the museum. And when he stood on the balcony outside Room 306 where Dr. Martin Luther King was gunned down, his emotions welled up and spilled out of his eyes.
"It moved me to tears," said Fizdale after a recent training camp practice. "I was overwhelmed, really. This is where our history changed dramatically in this country. It really set a lot of things back from that standpoint."
But Fizdale said that it was a visit to another Memphis museum that really drove home that turning point in Memphis history.
"I really started to get the whole picture when I went to the Stax Museum," Fizdale said. "They talked about how (in the 1960s) they had this integrated studio where white people and black people worked together . . . and they didn't see color. And right after Dr. King was killed, it all crumbled.
"So to stand there on the balcony where it all happened . . . it really overwhelmed me," he continued. "But it also reassured me that I was in the right place."
Make no mistake: Fizdale is here to coach basketball players. But it doesn't take long to learn that he wants to have a serious impact off the court as well. Across multiple interviews with media, he has expressed a desire to "get my hands dirty" in the cause of mentoring Memphis youth.
"I've lived it," Fizdale said. "I've lived what's going on. Growing up in Los Angeles, going through the things we went through as kids, witnessing the police brutality, the L.A. riots . . . it sticks with you," Fizdale said. "You learn that if you get to a point in life where you can actually contribute to the good part of it, that's what you're supposed to do.
"Coming to Memphis, that's why I say it feels like I'm supposed to be here," Fizdale continued. "It's bigger than just me. It's bigger than coaching. This is about our society as a whole and helping people who don't have a voice. Seeing that I do have a voice, I'm going to use it."
Vince Carter, who shared the stage with Fizdale during the social justice discussion, said he is inspired by Fizdale's passion.
"He's just wants to make a difference," Carter said. "He's very passionate about a lot of different things. He's passionate about the well-being of our families individually. He wants us doing our part in the community. When you have a coach like that, it just makes you want to be a part of it as well. With our platform, just being out there makes a difference. It shows that you care."
If it seems that Fizdale talks as much about serving Memphis as he talks about winning an NBA championship, it's because he does, his players say. And he has set the tone throughout the organization: You must act like a champion before you become a champion — from the front office to the cleaning staff, and everywhere in between.