Three-point play: Baldwin shines in Grizzlies preseason debut
Memphis Grizzlies 102, Orlando Magic 97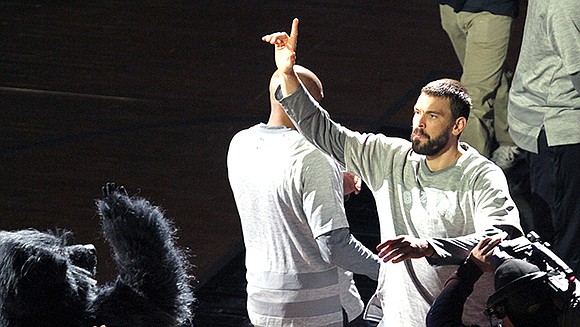 Memphis Grizzlies 102, Orlando Magic 97
As a rule, preseason games in the NBA don't really tell you a whole lot about a team. There are lineups you'll never see in the regular season featuring players who may not be on any NBA roster in a month. So JaMychal Green started ahead of Zach Randolph. Troy Daniels started at shooting guard while Tony Allen took the night off. James Ennis got the start while Chandler Parsons continues his recovery. Mike Conley and Marc Gasol rounded out the starting five.
For Memphis Grizzlies Head Coach David Fizdale, the preseason will be about installing a different style of play and instilling a championship-level culture. And in a surprisingly entertaining preseason 102-97 victory over the Orlando Magic, we got to see all of that — plus the unusual lineups featuring the unheralded players.
Here's the three point play:
Wade's World: Since being drafted, Grizz rookie PG Wade Baldwin IV has drawn favorable comparisons to Russell Westbrook — for his athleticism and competitive fire. But Baldwin was outstanding in his NBA debut, racking up 15 points and four assists while going 5-5 from the field including making his lone three point shot. As Zach Randolph blurted out as Baldwin was leaving the locker room: "Good job, Rook!"
"I don't feel like too much of a young player right now," Baldwin said. "These guys do a great job of preparing me in practice and all offseason. I felt comfortable playing in any game at any magnitude, just trying to compete."
That's my DJ! Not surprisingly, former University of Memphis Tiger DJ Stephens got plenty of love from the hometown crowd. Stephens, who played in the Grizzlies Summer League, has said that he wanted to evolve his game into a "3 and D" type of player, beyond his highlight reel dunks. But, wow! Those highlight reel dunks were on full display last night. Stephens first basket was a monster putback dunk that electrified the crowd and his teammates — and there were two more impressive dunks to come. Stephens finished with eight points and five boards.
"You're talking about a kid that you root for," Fizdale said after the game. "He is classy a young man and as professional as they come. He really brought a great energy to the game. He's obviously one of those players that can play to ignite everything and ignite his teammates, ignite the crowd, change the tempo of the game. I really like how he was flying around out there."
Coach Conley? During the second half, Fizdale summoned Conley off the bench, presumably to replace Baldwin. Wrong. Fizdale smacked Conley in the chest with the clipboard. "Coach the team," he said. Fortunately for Conley, there was already a play drawn up. "I just pointed at the board and said 'Do this!'" Conley grinned after the game. "Then we went on a nice little 6-0 run. I'll take the credit for that."
"I got up in the fourth quarter because we went on our biggest run while (Conley) was coaching, and so I didn't want to lose my job the first night," Fizdale chuckled. "I wanted him to do that because again I'm pushing him out in front to really take a leadership role and be more vocal, but he's also learning the offense and learning different things about what we are trying to do. We're talking about one of the highest IQ basketball players in the league, who has a lot of respect from his teammates. By no means was it gimmick or a joke. I really wanted him to be the guy communicating tonight."
Next: Grizzlies vs. Atlanta Hawks, Oct. 6, 7 p.m. FedExForum