Three Point Play: Parsons plays, Grizzlies lose
Memphis Grizzlies 94, Portland Trailblazers 100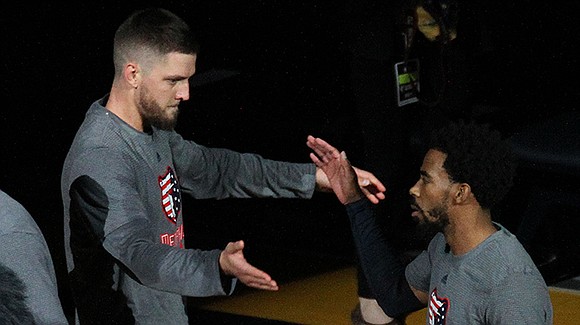 Three point play: Memphis Grizzlies 94, Portland Trailblazers 100
Throughout preseason and six games into the regular season, injuries have kept David Fizdale from using his desired starting lineup for the Memphis Grizzlies. Opening night, that starting lineup included Mike Conley, Marc Gasol and JaMychal Green. Standing in for Tony Allen and Chandler Parsons were Andrew Harrison and James Ennis, respectively.
Tony Allen made his season debut about a week later, against the same Minnesota Timberwolves. But you know what you're going to get from Tony — hardnosed defense, contagious competition and the occasional blown layup. What fans have had the big question mark about was when Memphis' $94 million man would play. The Grizzlies signed the 6-10 Parsons to a max contract, counting on his shooting and playmaking to help make the transition to Fizball.
Sunday afternoon, we got our first look. Here's the three point play:
Parsons: The Interruption. Chandler Parsons hasn't played basketball in months. And despite the excitement that his debut in Memphis generated Sunday afternoon, he sure looked like it. Parsons got the start, and went scoreless in 21 minutes of game action — 0-8 from the field, including 0-3 from the arc. This shouldn't be a surprise; after all, let's see any of us take almost a year off of basketball and have an explosive game. That said, it's easy to see what's possible with him on the floor. Several of his attempts were the kind of open looks you expect him to knock down as he plays himself into game shape.
"Yeah, it wasn't pretty," Parsons said after the game. "Obviously, that's not how you want to come out here and play for the first time. It was honestly to be expected. I have done this before was coming back from a surgery and struggled the first couple games. Honestly, it was just fun to be out there. Obviously, I don't plan on shooting that poorly very often but just to be back out there and doing what I love is special for me. I just got to get back in the gym and correct some things and get in better shape because everything kind of felt fast. Once we were going up and down a bit, my shot got a little flat. I got decent looks but you can't really simulate game speed unless you're playing so it was good to get back out there."
Blazing Hot: Damian Lillard is off to such fantastic start this season, that his name is already being mentioned for MVP. But Sunday, it was is backcourt partner C.J. McCollum, who lit up the Grizzlies for 37 points, including six three-pointers. It was enough to overshadow Lillard's modest (for him) line of 19 points, seven assists and six rebounds.
"We're going under pick-and-rolls on two of the greatest shooters in the NBA," Fizdale said of his team's defense on Portland. "That tells you right there that our brains were gone."
Back to Zach? When the Grizzlies were struggling offensively, yet again it was the erstwhile Zach Randolph who provided spark off the bench. Z-Bo rumbled for 15 points and seven rebounds in 20 minutes. But in a sight that Grizzlies fans will still have to get used to, Fizdale pulled Randolph halfway through the fourth quarter, with the Grizzlies trailing 86-92. Randolph could be seen shaking his head as he headed to the bench. After that, McCollum scored seven of his 37 points to help seal the win.
"I absolutely thought about going to Z-Bo (Zach Randolph)," Fizdale said of his late-game lineup. "Obviously I've got to do an offensive/defensive thing when it comes to that, because they hunt for Z-Bo on the pick-and-roll. Late in the game, with those kinds of guards, I don't want to put Z-Bo in that position, especially once we got down to try and defend those guards and pick-and-rolls late in the game. I have to find spots for him where I can put him in the right circumstances. I definitely thought about it, but we needed some stops and we just weren't coming up with them."
Next up: Memphis Grizzlies vs. Denver Nuggets, 7 p.m. Tuesday.