MEMPHIS REFERENDUM
Charter referendum will benefit Memphians without a MLGW rate increase, say Boyd, Robinson.
Berlin Boyd and Patrice Robinson, Special to The New Tri-State Defender | 11/7/2016, 12:52 p.m.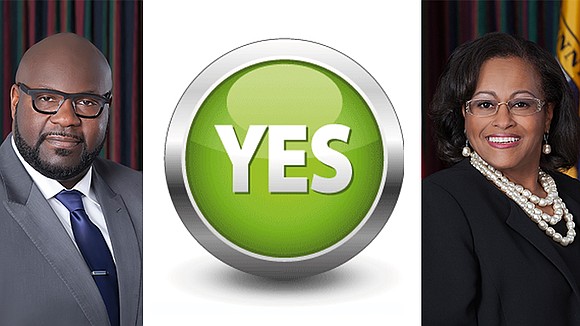 Fellow Memphians, we ask you to vote FOR the City of Memphis Charter Amendment on the ballot. Here's why.
MLGW is owned and controlled by Memphis. More than 75 percent of MLGW Electric and Gas revenues are paid by Memphians. The City's 6800 lane miles of roadway – constructed, policed and repaired with City tax dollars – are the backbone of MLGW's distribution systems, which allows MLGW to deliver low cost electricity and gas throughout Memphis and Shelby County. Over 74 percent of all electric assets are in the City as compared to 14 percent in unincorporated Shelby County; the percentage of gas assets in the City is even greater, 82 percent vs. 8.23 percent.
What is a PILOT? As a public utility owned by the City, MLGW's operations are funded with ratepayer revenues, which must be kept separate from City tax revenues. Although MLGW is exempt from local taxation, it must by law make an equivalent property tax payment ("PILOT") on its utility properties.
The City's Charter and state law recognize that the taxpayers in cities and counties pay for costs of government that benefit MLGW and its ratepayers, which costs should be shared by MLGW. The PILOT refunds some of the costs provided by taxpayers of the cities and towns in which MLGW operates. The referendum will not change the amount MLGW pays in PILOTs. Thus, the Charter proposal WILL NOT INCREASE UTILITY RATES!
State law will give Shelby County 22.5 percent of PILOTs before the City gets anything. This is wrong. Shelby County ratepayers only provide 7.7 percent of Electric and Gas Revenues but would be refunded 22.5 percent of PILOTs.
State law allows cities that own utility companies to change this result by Charter Amendment. The referendum would change the order of distribution to place Memphis FIRST, before Shelby County, rather than LAST. It will change Shelby County's share to about 10 percent of the PILOTs and will increase Memphis' share by approximately $5 million. The City's operating budget devotes most of City revenues to fire and police and to state-mandated pensions. The Charter Amendment provides additional funds for the budget that can be used to help neighborhoods, parks, recreation centers or to make street repairs.
If the Charter Amendment does not pass, the additional $5 million will go to Shelby County instead of to the City. Memphians already pay taxes twice. So, let's not allow the County to also receive PILOTs that have been paid for by Memphis ratepayers. Shelby County already receives a tax rate of $4.38 from Memphians, none of which is used to help neighborhoods, parks, recreation centers or for street repair. Keep PILOT funds in Memphis.
We are voting "For" the Charter Amendment and ask all Memphians to vote "For" as well. Let's put Memphis first.