GRITGRINDGRIZZ
BOMBS AWAY! Gasol, Grizzlies find their shooting touch.
Lee Eric Smith, lesmith@tsdmemphis.com | 11/3/2016, 12:43 p.m.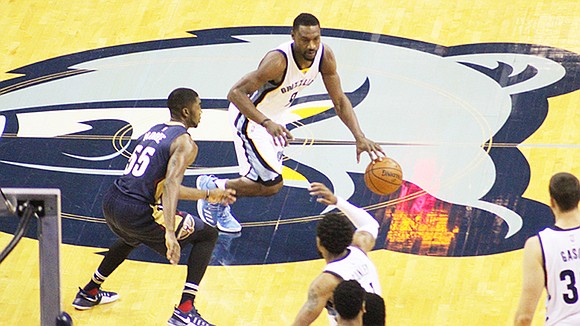 I need to keep a promise to myself.
In October 2015, I pitched a few ideas for the Memphis Grizzlies that I deemed, "so crazy, they just might work." One of them was that both Marc Gasol and Zach Randolph should be shooting more three-pointers. And as I read back through that column, I ran across this line: "I will be totally shocked if any of these make it onto the court, but if they do, you best believe I'm taking credit."
Well, consider me shocked. Marc and Zach are shooting threes! And even though I highly doubt that Head Coach David Fizdale read that column . . . YES! I'm taking credit!
In the preseason, Fizdale joked that he wanted Gasol to attempt at least four three-pointers a game. Five games in, and the big fella is taking 4.3 long-ball attempts per game — and making them at blistering 46 percent from the arc.

According to stats.nba.com, all of those attempts are catch-and-shoot scenarios, where a player (okay, mostly Mike Conley) drives to the basket and kicks it back out to a wide-open Gasol. This was on dramatic display Sunday night, when, after sending the game into OT with a deep three, the smooth-shooting center knocked down two more in the extra frame.
"He's been able to do that for a long time," Conley said after the Washington win. "He's always been one of the better three-point shooters in practice. So now that coach is giving him the green light, you get to see him be more confident. You get to see him look for his opportunities and you can see we trust him to knock down the big shots. We drew up the play for him to get a couple of good ones and he came up big for us."
Those shots will get the press, but equally important is that Gasol's shooting opens up the paint for Conley to do things we haven't much seen before. Through (FIVE) games, Conley is averaging just under 20 ppg and nearly seven assists. Oh, and he's shooting a ridiculous 64 percent from the arc himself. The new offensive wrinkles give him plenty of space to work with — according to stats.nba.com, about 58 percent of Conley's attempts come with a defender at least four feet away. More often than not, he's wide open, and he's making the shots.
What about Z-Bo? I have floated the idea before that bringing Randolph off the bench would unclog the paint while allowing him to dominate opposing bench players. So far, that's playing out well. Through five games, Randolph is averaging 18 points and nine boards a game, on 52 percent shooting — and in 24 minutes per game no less.
Some of this success — maybe most of it — is the element of surprise. As in, teams aren't used to haven't to guard the Grizzlies out to the three point line at all, let alone a 7-foot former Defensive Player of the Year. As teams adjust, we'll see how the team adapts.