'God hears the cries of children'
Hagar Center to provide guidance, support to teen moms.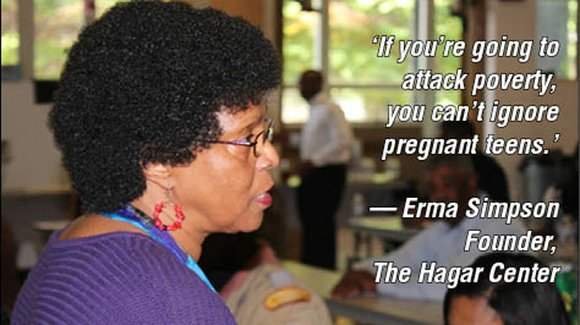 When Erma Simpson wanted to launch a center to support and teach teen mothers, she immediately thought of Hagar, the Biblical figure in The Book of Genesis. After giving birth to Abraham's out-of-wedlock son Ishmael, Hagar fears she and her child won't last long in the wilderness — until God reassures her that she and her child haven't been forsaken.
"I get these girls who come into my office almost every other day with babies that they don't know what to do with, don't know how to bond with them and don't know how they're going to take care of," said Simpson, a marriage and family therapist who recently established the Hagar Center, a nonprofit to help homeless young mothers.
"I remembered that God hears the cries of children."
After 13 years of working with teen mothers, Simpson has seen how drastically motherhood can affect young women's lives. She's worked with them as program director of First S.T.E.P.S. (Skills to Ensure Parenting Success)—a teen parenting and skills program at the Exchange Club Family Center on Union Ave.
Earlier this month, she opened the Hagar Center at 3124 Thomas Street, to establish a safe haven for homeless mothers — many who are children themselves. And last week, she spoke at the Frayser Exchange Club luncheon, advocating for those she's chosen to serve.
"You really have to address poverty among our young people," Simpson told the audience. "If you're going to attack poverty, you can't ignore pregnant teens."
Simpson said that the idea to form the Hagar Center came from her concern about the obstacles that teen mothers face, such as homelessness, dropping out of high school and being likely to be targets for sex trafficking due to sometimes lacking money, shelter and resources.
"The great community that Frayser is and is trying to be will only be better if we invest continuously in our young people," Simpson said. "We need programs that are sensitive to their needs, and we have to allow them to be able to be who they are."
As for the specific programs and resources the Hagar Center will offer, Simpson said that the center would assess each individual's specific needs, but that the center would offer counseling and programs to help teen mothers finish high school. She also said the Hagar Center would help mothers locate transportation options and help find access to healthcare services.
"We're doing a resource center so that we, with the help of the Frayser community, can see what the needs are and where they are," Simpson said.
Simpson said the center also hopes to have a residential facility by the end of the year. Typically, shelters don't take in homeless teens who are under 18.
Simpson emphasized the importance of youth having productive activities and a productive environment to keep them from making choices that can lead to unintended pregnancies.
"Children need to feel valued," Simpson said. "They need to feel like they have gifts and talents. That way, sex doesn't become recreational."
Simpson said that sometimes teen pregnancies can be the result of tragedies, such as incest, and that the center wants to work with the community to make sure that it can address the various, differing needs of as many teen mothers as possible.
"There are many tragedies out there, and we probably will not address all of them, but with your help, we can at least address as many as we can," Simpson said.
For more information on The Hagar Center, visit www.thehagarcenter.org.