A crying need to do more about crime
One year later, soldier's family, friends mourn; murder unsolved.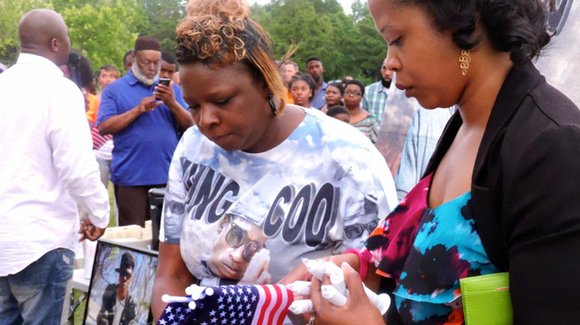 Some in the crowd that gathered on Fourth Street behind FedExForum talked about the need for more police officers.
Others talked about poverty and a maze of circumstances that made for mountainous obstacles for young people in need of jobs.
All of them had crime – and what to do about it – on their minds.
"It's just a perfect storm," said Eric Henderson, asked about the violent-crime surge reflected in 91 homicides in Memphis already this year.
Henderson guided the crowd through a commemoration for his son, Calvin Wilhite, who was gunned down on the site of the gathering one year ago to the day (May 24).
The 2016 Memphis homicide rate has zoomed past the 53 at this time last year. The 91 people killed include 18-year-old Booker T. Washington High School senior Myneishia Johnson, the apparently unintended victim of a Sunday drive-by shooting that has drawn a confession from 19-year-old Kwasi Corbin, who has been jailed without bond for first-degree murder. Two others were injured in the shooting.
Johnson leaves behind a 1-year-old son. She was set to graduate with her class on Saturday.
Thinking about the death of his son and Johnson's killing a year and a few days later, Wilhite's father was reflective.
"It just says…the streets…it just needs more officers and stuff to stay in this area Downtown," he said before taking to the microphone and introducing the Rev. Darius Oliver, who told the crowd how Dr. Martin Luther King Jr. had linked crime and poverty.
"Wherever you see crime, you will always see poverty," said Oliver of The Glory Church. "America has done a wonderful job by declaring war against crime but has not done enough in war against poverty."
Wilhite's killer remains at large. There is a $20,000 reward for information that helps identity the shooter.
"There is somebody out here who knows who killed my son," said his mother, Valerie Henderson.
"The devastation of all the senselessness," said Henderson, referring to the tightening grip of violent crime in Memphis. "We are just trying to get through it (the loss of her son) one day at a time."
Wilhite was in the Army, having enlisted out of high school. He was fatally shot as he walked his girlfriend, Francheska Sides, back to their car.
"I hope we get justice one day," said Sides. "I really do… It hurts. We never expected this in a million years."
Other relatives there included Wilhite's daughter and his younger brother.
Balloons with messages inside were released in honor of Wilhite, aka "Young Coo."
Former City Councilman Harold Collins is a friend of the Henderson family. There to show support and not intending to speak, Collins shared a conversation he'd had with someone in the crowd.
"I told her that this needs to be the last one, a vigil, for any young people who die," said Collins, head of the Memphis Shelby County Crime Commission's Operation: Safe Community, a crime reduction initiative.
"The only way that stops is that we have to … save our own city. We've got to say, 'something is wrong.' We've got to say, 'that's not right.' We've got to tell our daughters and our sons, 'You got to do better.'"
African-Americans are the ones dying by violence in Memphis, he said.
"We got to stop it. We've got to make the change. We've got to decide that we will not stand for it any more. Tonight's vigil says that. But when we leave here, we've got to say we're not coming back. We're not having any more of these," said Collins.
"For our children will live and they will not die. Our city will live, it will not die. That's what we have to say," he said. "And that's what we have to do."