Crosstown High School backers stand firm
Group envisions a learning model that proves "high school can be done better."
Kirstin Cheers, Special to The New Tri-State Defender | 5/21/2016, 10:06 a.m.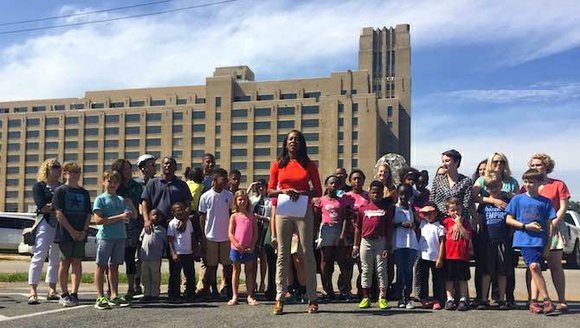 With over two dozen families, supporters and community leaders behind her, Michelle McKissack – a board member of the anticipated Crosstown High School – stood in front of the still-developing Crosstown Concourse, ideally where the new, project-learning-based high school will be located. McKissack and the group had summoned Memphis media to address community concerns about opening such a high school, especially considering the current Memphis educational climate.
"The answer is simple: because the children, parents and families of Memphis demand it, and they deserve it," said McKissack at the Thursday afternoon press conference.
The Crosstown Concourse, which is projected to open in 2017, rests between the borders of Midtown and North Memphis, a figurative dichotomy of one of Memphis' pressing problems – balancing affluence and poverty. McKissack hopes the erection of Crosstown High School will draw and connect all Memphians and produce the type of educational climate that is effective and works for everyone.
"The remarkable genius of the Crosstown Concourse is that it is a place where everyone and everything becomes 'better together,'" said McKissack. "That is what Crosstown High will do with the very concept of what public education can be."
The high school proposal is under review by a national team and is a part of a project supported by Laurene Powell Jobs, the widow of Apple, Inc. founder Steve Jobs. The project, The XQ Super School Challenge, is looking to give the top five school proposals $10 million for reimagining how to better prepare high school students for college and life after graduation.
The Crosstown High School proposal has progressed to the second round of the Challenge, along with 300-plus other proposals. By description, it will bring innovative learning. That includes project-based learning, which would involve a cohort of students working together alongside adult mentors who will come from different arenas of the Memphis community through partnerships with "Methodist Healthcare, Church Health Center, ALSAC, Crosstown Arts, Christian Brothers University, and many, many other Crosstown partners and tenants."
"Our school will be contained in this incredible building, but we intend for our students to be fully immersed in their actual classroom: the city of Memphis," said McKissack.
The board and supporters assert that the school will not only be "academically rigorous" but also hold electives and extra-curriculars. According to their website, CrosstownHigh.org, "two-week long elective courses will allow (Crosstown) students to deeply explore areas of particular interest. Extracurricular opportunities, such as arts, music, athletics and internships – all driven by student interest – will give students unlimited opportunities to pursue their passions."
Teddy King serves on the school's execution team and is an employee with the Achievement School District. He's confident Crosstown High School will be ready to open by fall 2017.
"There will be a high school here," says King. "We have a couple of deadlines we need to meet this month to be ready for the next round."
The high school proposal has triggered opposition, along with questions probing the value of creating a new school rather than supporting an existing high school. Some wonder how such a school would measure up with the current Shelby County Schools model and about funding issues.