Where are the teachers of color?
A new report by the Department of Education shows that the backgrounds of instructors is not in balance to the students they teach.
Richard Price, The Root | 5/9/2016, 11:51 a.m.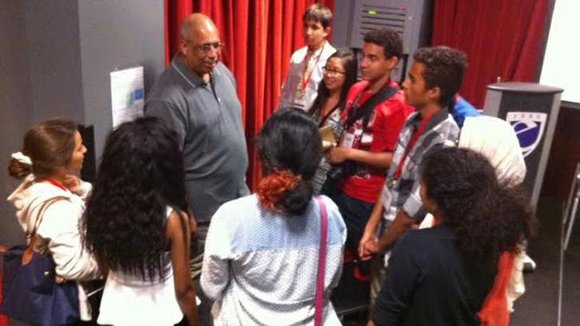 The U.S. Department of Education Friday reported "a lack of racial diversity among teachers at public elementary and secondary schools across the nation. Less than one in five U.S. public school teachers — 18 percent — are individuals of color, while approximately half —49 percent — of public elementary and secondary school students are individuals of color.
"Since teachers of color can be positive role models for all students in breaking down negative stereotypes and in preparing students to live and work in a multiracial society, this diversity gap suggests that the U.S. public school system is not reaping the known benefits we could experience if we had greater diversity in the teacher workforce."
The findings in "The State of Racial Diversity in the Educator Workforce," [PDF] released in conjunction with a National Summit on Teacher Diversity held at the department, bear directly on efforts to produce more journalists of color.
The reading, writing, speaking and critical thinking skills essential to becoming a journalist are nurtured in school. Students of all races need to be knowledgeable about an increasingly multicultural world.
Neal Justin, a co-founder of J-Camp, the Asian American Journalists Association's national multicultural journalism program for high school students [video], told Journal-isms that over 16 years he has seen a difference when students of color have a chance to be with students like themselves.
But, he said, "having a professional staff" with members of color "is as inspiring as anything. That's one of the big surprises to me. I didn't expect that to be one of the headlines," Justin said by telephone.
"They've got a lot of questions," Justin, television critic of the Star Tribune in Minneapolis, said of the program's 15- and 16-year-olds. "Every little bit of encouragement helps. In this case, being the same color you are can play a pivotal role."
The report put it this way:
"Diversity is inherently valuable. We are stronger as a nation when people of varied backgrounds, experiences, and perspectives work and learn together; diversity and inclusion breed innovation. Groups of more diverse problem solvers have been found to outperform groups of less diverse problem solvers, and companies with more diversity in their leadership also tend to be top financial performers.
"Research shows that diversity in schools, including racial diversity among teachers, can provide significant benefits to students. While students of color are expected to make up 56 percent of the student population by 2024, the elementary and secondary educator workforce is still overwhelmingly white. "In fact, the most recent U.S. Department of Education Schools and Staffing Survey (SASS), a nationally representative survey of teachers and principals, showed that 82 percent of public school teachers identified as white. This figure has hardly changed in more than 15 years; data from a similar survey conducted by the Department in 2000 found that 84 percent of teachers identified as white. [In addition, black men make up only 2 percent of the teaching workforce nationwide.]
"Improving teacher diversity can help all students. Teachers of color are positive role models for all students in breaking down negative stereotypes and preparing students to live and work in a multiracial society. A more diverse teacher workforce can also supplement training in the culturally sensitive teaching practices most effective with today's student populations.