Pinnacle strikes back at First Tennessee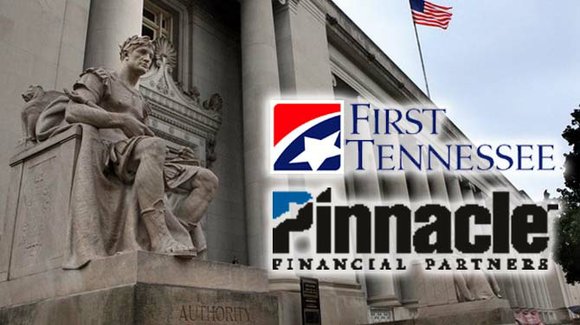 Last month, First Tennessee Bank filed suit against Pinnacle Financial Partners and a former FTB employee, alleging that the two conspired to lure key employees and clients to Pinnacle's new Memphis operation. This week, Pinnacle fired back.
In its response to the suit, Pinnacle said they did nothing wrong in hiring Damon Bell as executive vice president for the greater Memphis area. The response went on to say that the seven former First Tennessee employees who joined Pinnacle did so because they were leaving behind a "toxic environment."
"Pinnacle admits that prior to Mr. Bell's resignation (from First Tennessee), he had approached Pinnacle seeking an opportunity to leave FTB," the response reads. The 30-page document also says that Bell and Pinnacle discussed offering jobs to other FTB who were "disillusioned by the environment of toxicity and favoritism created by FTB's current leadership."
At First Tennessee, Bell led the bank's Private Wealth Group, a division that handled elite clients. First Tennessee's suit says that Pinnacle had been looking to compete in the Memphis market, and that Bell quietly recruited his colleagues while planning his exit.
In April 2015, Pinnacle acquired Magna Bank. Within days, Bell and seven FTB colleagues resigned and were hired by Pinnacle. The suit alleges that Bell and Pinnacle "acted with malice and/or a predatory motive," seeking to cripple FTB by plucking employees and wealthy clients from its portfolio.
"All of these employees were responsible for substantial and important customer relationships, and the defections were unexpected and immediate in nature," the suit says. "First Tennessee has been forced to undertake expensive and time-consuming efforts to transition responsibility to its remaining team members in order to continue to serve its clients' needs."
According to First Tennessee's suit, Bell's recruitment involved secret meetings at his home — so secret, in fact, that Bell had his guests park remotely and had his daughter shuttle them to his home.
Bell is the only former First Tennessee employee named in the suit, alongside Pinnacle. Because much of the suit takes aim at Bell, Pinnacle's response addresses only the portions of the suit that allege their wrongdoing. But in the points they do respond to, Pinnacle fires back.
"Pinnacle admits that it made offers of employment to certain FTB employees, but denies that the offers were attractive because of, or were based on any confidential knowledge of Bell," the response reads. "Rather, the compensation packages were attractive because of the manner in which current FTB leadership had chosen to treat its employees."
Among those employees now at Pinnacle: Herman Strickland. At First Tennesee, Strickland, an African American, had created a Diversity Banking Group, aimed at serving minority-owned businesses. However, when First Tennesee started disbanding the group in 2014, Strickland was reassigned to a less prominent position.
"Pinnacle denies that Mr. Strickland 'defected,'" the response said. "FTB forced out one of its few African American executives to redirect its 'strategy' in such a manner as to direct the business of those minority customers to other groups."