A 'fresh face' with lots of color is the new trend this spring
Wiley Henry, whenry@tsdmemphis.com | 3/25/2016, 12:20 p.m.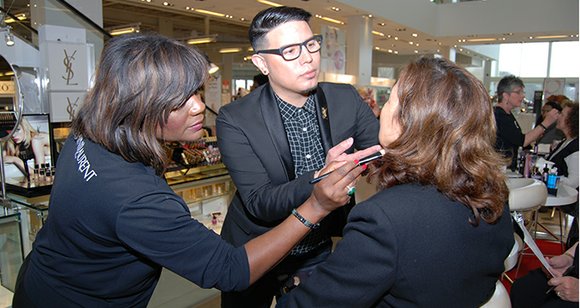 Applying makeup is a daily routine for women like Loretta McNary, who use beauty treatments to bring out the best of their features – foundation, eye shadow, eyeliner, lipstick, mascara, etc. But not all women get it right.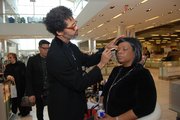 "Makeup is supposed to enhance your beauty and not take away from it. We tend to overdo the colors. If all you see is makeup, you can't see the person," said McNary, host of "The Loretta McNary Show" on Comcast.
McNary picked up a few makeup tips at a women's event in February from celebrity makeup artist and esthetician Ariel Sereika, a Yves Saint Laurent (YSL) representative in Memphis. She'd gotten her makeup done by Sereika and was thoroughly impressed with the results.
"Ariel nailed it. She got it perfect for me," said McNary, who paid Sereika another visit on March 19 after receiving an invitation to attend a beauty event at Macy's Carriage Crossing in Collierville, featuring Armando Ramos, a national makeup artist for YSL.
"I wanted to see what's new, the latest trends, and how to properly apply eye makeup," said McNary, trying to keep current with YSL's product line. "If you watch the makeup artists do it, you can learn the technique."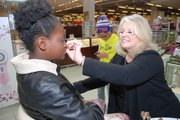 This time she brought along three of her nieces – Jorden Moore, 12, Rosalyn Parker, 11, and Destiny Thomas, 6. She wanted to introduce them to the industry and experience for themselves a makeup job by some of YSL's best.
From 10 a.m. to 5 p.m., Ramos and the team from YSL painted, powdered and brushed away any inhibitions the women – and the girls, for that matter – may have felt. They sat no more than 20 minutes and emerged with a smile.

"We're all about beauty and makeup, because Yves Saint Laurent was all about women being beautiful," said Susan Anderson, an account executive for YSL's International Designers Collection. "This makeup is special, because it has the science behind the treatment."
YSL has a wide color palette for all ethnicities, said Anderson, a resident of Little Rock who travels frequently to promote the brand.
"It works for all skin types," Sereika added. "We not only do color… we do clothing, handbags and jewelry. We're trying to keep Yves Saint Laurent's legacy going … in the Macy's store. And we're very proud of what we're doing."
Born in Algeria, Yves Saint Laurent was arguably one of the most influential fashion designers of the 20th century. He rose to fame after introducing the widely popular ready-to-wear (prêt-à-porter) concept in 1966 and set a standard for his trendsetting Le Smoking tailored tuxedos. He died in 2008.
Ramos was in Memphis to introduce and celebrate YSL's spring collection. "I'm here to talk about what's hot, what trends – like what's hot for the spring – the colors people are using, the cool techniques to complexions, and to get that real gorgeous summer glow to the skin," he said.
"I see the trend going to a fresh face, almost no makeup as far as the complexion is concerned – dewey skin, healthy skin, youthful skin – and of course lots of color on the lips and lots of color on the eyelashes. We're seeing very dramatic lips."