Watch Video: Trump supporter yells 'Go back to Africa' to protesters, black woman replies 'Ya'll brought us here'
theGrio | 3/14/2016, 12:25 p.m.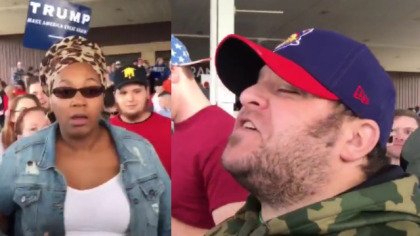 "Go back to Africa."
That's what a Donald Trump supporter was caught on camera yelling at Black Lives Matter protesters outside of a rally for Republican frontrunner Donald Trump in Cleveland over the weekend.
MSNBC's national reporter Tony Dokoupil tweeted footage of the moment Saturday afternoon. The incident was another example of the growing racial tension between people on both sides of Trump's candidacy.
The clip is cut off in the very beginning, but it appears the protester says "If you (protesters) call yourselves African-American, go back to Africa!"
He then follows up with, "If you're an African first, go back to Africa!"
He then repeats the line for good measure.
An African-American woman approaches the supporter (donned in camo-hoodie and a baseball cap) and appears to mouth, "Ya'll brought us here."
Friday, Trump canceled his planned rally in Chicago due to the overwhelming presence of protesters at the University of Illinois-Chicago.