Watch Video: Top education officials say America's schools need more black teachers
Natasha S. Alford, theGrio | 3/14/2016, 12:24 p.m.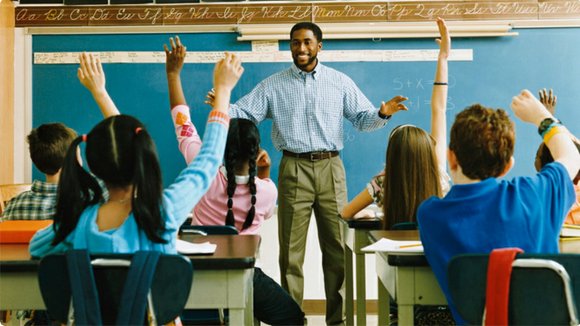 Today, a student in America can go from Kindergarten to college and never have one teacher of color. In a nation where minorities are a growing share of the 50 million children in public schools, black students are even less likely to see classroom leaders that look like them.
A report by the Albert Shanker Institute (ASI) says that teachers of color only make up 17 percent of the teaching force. While it represents a slight increase over the course of two decades, (from 12 percent), policy experts say the numbers are not enough to match the number of teachers leaving the classroom.
Teacher diversity is one of the rare issues that brings groups on opposite sides of the politically-charged education world together. At a panel co-sponsored by the Howard University School of Education this week, Secretary of Education John B. King, President of the American Federation of Teachers (AFT) Randi Weingarten and the CEO of Teach For America, Elisa Villanueva Beard stood in agreement that America needs more teachers of color.
"We need to keep the African-American and Latino teachers and Native teachers," Weingarten told the packed audience at the university's School of Social Work auditorium. "We need to nurture them, keep them, support them. We need to lift them up."
The issue of teacher diversity has its roots all the way in Brown v. Board of Education, when a push for integration also met resistance.
"There were deliberate efforts to smash and interrupt the black teacher and principal pipeline," said Dr. Leslie Fenwick, Dean of the Howard University School of Education and panel moderator. "Many people don't want to acknowledge that history as the cause and the factor for what we're experiencing today."
Fenwick said at one point in 16 states where there were dual education systems based on race, 35-50 percent of teachers and principals were black. Today, those numbers have been reduced to 7 percent.
Some are concerned that black teachers are being erased from the system altogether. The ASI report says cities like New Orleans and Washington, D.C., have seen their share of the black teaching population decrease significantly from 2002 to 2012 — more than 24 percent and nearly 28 percent respectively.
Georgia Department of Education official fired after racist Facebook posts
Weingarten pointed to working conditions as a reason that many teachers leave the classroom.
"At the end of the day, we can't keep saying that we want the best teachers to go to the hardest to staff schools and then do nothing to actually help them," she said.
Teach For America, which recruits new teachers for a minimum two-year teaching commitment, says it has improved corps member diversity by active recruitment. Of its nearly 9,000 current classroom teachers, 21 percent are African-American — three times the national rate.
"We simply committed to it," said Villanueva Beard, CEO of Teach For America. "When we're talking about educational equity, at the core of it is race, class and privilege."
She pointed to special partnerships working with American-American communities to recruit, including one with Alpha Phi Alpha, Inc. to highlight the need for black male teachers.