After Sharapova drug scandal, Serena Williams will be world's highest paid female athlete
Jay Scott Smith, theGrio | 3/10/2016, 12:20 p.m.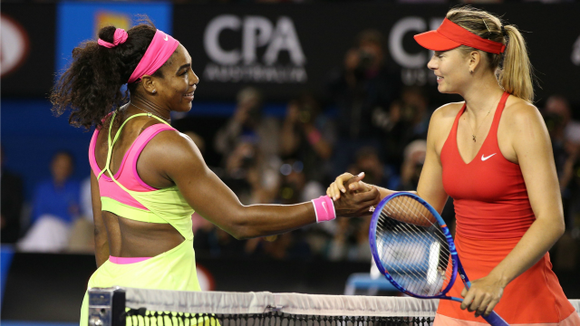 Serena Williams has won 21 major tennis championships, an Olympic Gold medal, and is coming off of a year where she came within a hair of sweeping tennis's Grand Slam.
She was named Sports Illustrated's Sportsperson of the Year, beating out former UFC champion Ronda Rousey and NBA MVP Steph Curry. She has been the single most dominant force in sports – at one stretch winning 53 of 56 matches.
So why will it take a failed drug test for her to become sports' highest grossing female athlete?
Maria Sharapova, the Russian tennis star who at one point was considered Williams' chief rival, has spent 11 years in the No. 1 spot with Serena hot on her heels the last few years.
On the court, Sharapova is a former No. 1 player and five-time Grand Slam winner. But when it comes time for her to face Serena, you might as well fit her for a Philadelphia 76ers jersey.
Sharapova is a stunning 2-19 in her career against Serena, including 18 straight losses. Her last win against Serena came in 2004.
Despite all of this, Sharapova earned nearly $30 million last year in endorsements and on-court purses compared to Serena's $24 million. That streak looks to be coming to an end announcing on Monday that she had tested positive for the recently banned substance meldonium during the Australian Open.
The announcement, in which Sharapova copped to taking the drug for 10 years, set off a string of her most high profile sponsors, including Nike, Swiss watchmaker TAG Heuer, and Porsche either suspending or terminating their partnerships.
The question still remains to how, despite being the most dominant female athlete on the planet, Serena Williams has never topped the women's money list?
As much as you want to believe that being a dominant athlete and a winner translates to big endorsement dollars – with male athletes such as Michael Jordan, Tiger Woods, LeBron James, and Curry being prime examples – on the women's side, image is still everything.
While Serena's an inspiration to young women all over the world, it has only started to make an imprint on Madison Ave. in recent years. Williams told the New York Times Magazine last year that she's good with where she is and won't force a company to get behind her.
"If they want to market someone who is white and blond, that's their choice," she said. "I have a lot of partners (JPMorgan Chase, Wilson Sporting Goods, Pepsi and Nike) who are very happy to work with me.
"I can't sit here and say I should be higher on the list because I have won more," she added "I'm happy for [Sharapova], because she worked hard, too. There is enough at the table for everyone."
Williams' situation compares to another dominant tennis player who lagged behind in endorsements: Martina Navratilova.
Navratilova was one of the most dominant players of the 1970s and 80s, but lagged behind her rival Chris Evert in endorsements largely because companies were not embracing openly gay athletes back then.