Pat Summitt, the winningest coach in NCAA D1 basketball history, dies at 64
Pat Summitt, the winningest coach in Division I college basketball history who uplifted the women's game from obscurity to national prominence during her 38-year career at Tennessee, died Tuesday morn
Steve Megargee, AP Sports Writer | 6/28/2016, 12:41 p.m.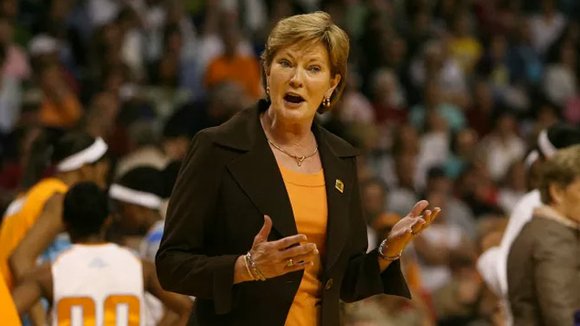 KNOXVILLE, Tenn. (AP) — Pat Summitt, the winningest coach in Division I college basketball history who uplifted the women's game from obscurity to national prominence during her 38-year career at Tennessee, died Tuesday morning. She was 64.
With an icy glare on the sidelines, Summitt led the Lady Vols to eight national championships and prominence on a campus steeped in the traditions of the football-rich south until she retired in 2012.
Her son, Tyler Summitt, issued a statement Tuesday morning saying his mother died peacefully at Sherrill Hill Senior Living in Knoxville surrounded by those who loved her most.
"Since 2011, my mother has battled her toughest opponent, early onset dementia, 'Alzheimer's Type,' and she did so with bravely fierce determination just as she did with every opponent she ever faced," Tyler Summitt said. "Even though it's incredibly difficult to come to terms that she is no longer with us, we can all find peace in knowing she no longer carries the heavy burden of this disease."
Summitt helped grow college women's basketball as her Lady Vols dominated the sport in the late 1980s and 1990s, winning six titles in 12 years. Tennessee — the only school she coached — won NCAA titles in 1987, 1989, 1991, 1996-98 and 2007-08. Summitt had a career record of 1,098-208 in 38 seasons, plus 18 NCAA Final Four appearances.
She announced in 2011 at age 59 that she'd been diagnosed with early onset dementia. She coached one more season before stepping down. At her retirement, Summitt's eight national titles ranked behind the 10 won by former UCLA men's coach John Wooden. UConn coach Geno Auriemma passed Summitt after she retired.
Former NCAA basketball coach Pat Summitt is presented with a Presidential Medal of Freedom by U.S. President Barack Obama during an East Room event May 29, 2012 at the White House (Getty Images)
When she stepped down, Summitt called her coaching career a "great ride."
Summitt was a tough taskmaster with a frosty glower that could strike the fear of failure in her players. She punished one team that stayed up partying before an early morning practice by running them until they vomited. She even placed garbage cans in the gym so they'd have somewhere to be sick.
-Pat Summitt: It's Been A "Great Ride" At Tennessee
Nevertheless, she enjoyed such an intimate relationship with her players that they called her "Pat."
Known for her boundless energy, Summitt set her clocks ahead a few minutes to stay on schedule.
"The lady does not slow down, ever," one of her players, Kellie Jolly, said in 1998. "If you can ever catch her sitting down doing nothing, you are one special person."
Summitt never had a losing record and her teams made the NCAA Tournament every season. She began her coaching career at Tennessee in the 1974-75 season, when her team finished 16-8.
With a 75-54 victory against Purdue on March 22, 2005, she earned her 880th victory, moving her past North Carolina's Dean Smith as the all-time winningest coach in NCAA history. She earned her 1,000th career win with a 73-43 victory against Georgia on Feb. 5, 2009.