How social media is helping to change the image of young black dads
Black dads, especially young ones, often get a bad rap, but with the advent of social media and the ability to create individualized platforms, the truth about black dads—loving, nurturing and complex
Breanna Edwards, The Root | 6/20/2016, 12:22 p.m.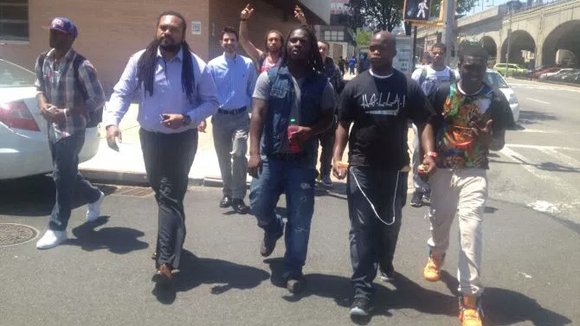 When mainstream media paints a picture of black fatherhood, the image is usually marred by racialized prejudices and stereotypes about black manhood in general.
Case in point: Remember the little boy who fell into the gorilla habitat at the Cincinnati Zoo, resulting in the death of the endangered silverback gorilla, Harambe? (Of course you do.)
The boy's father was not even at the zoo with the mother, but that didn't matter to the Daily Mail. First the site manages to bring his criminal record into play; then, buried in the story beneath the salacious headline, the reader finds out that he seems to have "turned his life around" and dotes on his four children.
So why bring it up at all?
Black dads are often portrayed as cold and uncaring deadbeats. Rarely are they portrayed as being involved. Rarely are they portrayed as loving.
And young black men? The mainstream media will call them "thugs" before they call them good fathers.
This is a problem, because nothing could be further from the truth.
"Television focuses so much more on [black] masculinity in terms of how they front themselves, more than what they do in terms of being a parent, companions, lovers, fathers. We don't see the whole package; we see less than one-fourth," Janice Kelly, with the Atlanta-based Fathers Incorporated, told The Root. "They're changing diapers, they're doing hair, they're doing all of the things that are required … but when it comes to television, it becomes the one-dimensional character."
Indeed, black dads, even young black dads, are doing all of that and more. They want to be involved. But a lot of the time the conversation about dad involvement revolves around monetary support. And while child support is important, it's not the be-all and end-all.
"We see more conversation around the who guy doesn't pay child support rather than the images of young guys that are stepping up and doing all they can do for their family," Raheem Brooks, who works with young fathers between the ages of 18 and 24 at the CUNY Fatherhood Academy, said. "For years it's been more based on money, and I guess that's tradition … but there's so much more—guys being more engaged, having conversations, laughing with their children—and that's what we see when we have our family days."
These are guys, he says, who are looking for the resources, looking for a way to take the initiative, regardless of the type of model for fatherhood that they have growing up, regardless of their relationship with their child's mother.
In recent years, the media space has gotten a bit better about its imagery. There was that adorable ad that showed hulking NFL players carefully grooming their little girls' hair. NBA MVP Stephen Curry was beautifully featured in Parents magazine, with his wife, Ayesha, doting on and laughing with his two little girls.
However, the biggest player responsible for shifting the narratives around young black fathers is social media.
Why? Because the news comes straight from the source itself: young black fathers boasting about their babies, posting videos of themselves playing with their babies, chronicling their lives with their babies in daily vlogs like the amazing ones done by La Guardia Cross.