'Unsung hero' keeping Frayser beautiful
Christine Grandberry leads by example.
Brittney Gathen, Special to The New Tri-State Defender | 6/9/2016, 1:19 p.m.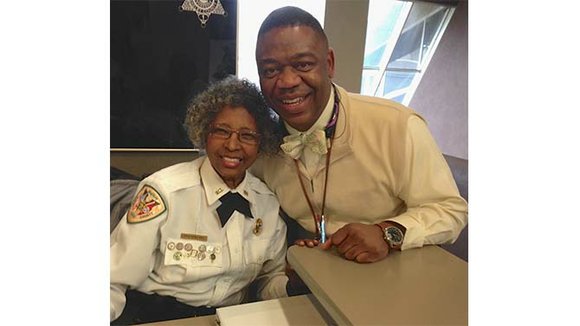 The beauty of Frayser is etched in the mind of longtime resident Christine Grandberry.
"I'll get in my wheelchair and go down the street and pick up all the trash, just because I love my neighborhood," said Grandberry, 68.
"I have spent my own money to get some of these yards cut, just to keep the neighborhood looking nice, and I'm on a fixed income."
Grandberry has called Frayser home for 20-plus years. Getting in involved is a way of life for her, whether its the Frayser Neighborhood Council, the Frayser Exchange Club, the Rangeline Neighborhood Association or in some other area of Memphis.
"She's been here so long, and she knows just about everybody," said the Rev. Charlie Caswell of Union Grove Baptist Church. "She's connected on every level whether it's residents or politicians or stakeholders. If you need to know how to get in touch with somebody, she's a key person to reach out to."
His "play mom," said Caswell, is "very bold in her approach to let people know that she's very concerned and very determined to keep her community clean and safe... she's passionate about what she does."
Underlying that passion is Grandberry's rejection of the notion that "It ain't my house'" and her embrace of the principle that "It's your neighborhood."
"I want to keep mine up," she says, "and it seems like you would want to keep yours up. …Even if you are a renter, care about your neighborhood."
E. Shelly Rice, president of the Frayser Exchange Club, said more people like Grandberry are needed in Frayser.
"She doesn't just stand on the sidelines. …If we had more people like her in the Frayser community, it could be turned around overnight."
Two years ago, Grandberry became a volunteer code enforcement inspector, reporting violations to Code Enforcement in the city's Public Works division. She would like for code enforcement officials and city officials in general to play a more active role in bettering her community.
"We need some help. …If the mayor put forth an effort on what he campaigned about…start with blight…If you know it has so much blight, make the people responsible for their yards and lots."
And then there is the senseless violence committed by young people that Grandberry is convinced could be productive contributors to the community if more of them were employed "so that they won't feel so insecure that they have to kill somebody 'just because.'"
Every Wednesday from 6:30 a.m. to 2:30 p.m., Grandberry answers questions as a volunteer at the information desk at 201 Poplar, where she also gives out candy, smiles and jokes with passersby in effort to brighten their day. It's a role she's filled for eight years.
"She never gives up and she never takes no for an answer," said MPD Sgt. Craig Littles, who has known Grandberry for over a decade. "She is a woman of respect and loyalty who loves her community. She's an unsung hero. She doesn't look for any limelight or gratuities, but she's most deserving of whatever comes her way."